PISCATAWAY, N.J. (AP) Rutgers doesn't have time to wallow after squandering a chance to win its first Big Ten Conference game. Coming off a 13-10 loss to Penn State, The Scarlet Knights (2-1) will face Navy and its high-octane option offense on Saturday. Rutgers coach Kyle Flood had one message for his defense about the attack. Nobody does it better than the Midshipman. The...
Welcome to the first installment of The Navy Report on AAC Football Fever. This particular post is unique compared to the original content normally produced on the site. For one, it's about Navy who doesn't formally join the AAC in football until 2015. Secondly, its not your typical opinionated article. It's a debriefing, in a sense, of the current and historic status of Navy...
Navy isn't an easy win by any measure. Just ask Ohio State. The Midshipmen were beating the Buckeyes (then the No. 5 team in the country) well into the third quarter in Week 1. They're also second in the nation in rushing yards. They're the type of team that can upset any team in the country at any time. Photo used courtesy of cbslocal.com. That tricky triple-option offense...
Quarterback Keenan Reynolds rushed for 173 yards and two touchdowns to lift Navy over Temple 31-24 before leaving the game in the fourth quarter with an apparent knee injury. #NavyFootball hangs on, 31-24, but of more pressing concern is Keenan Reynolds, who left with 5 minutes to play with right knee being iced. — Gene Wang (@gene_wang) September 6, 2014 DeBrandon Sanders rushed...
The Ohio State defense had a little trouble against the running game Navy brought Saturday, but on occasion they were able to sniff out what the Midshipmen had in mind and put a stop to it pretty quick.Like they did here when Navy tried to set up an option, but forgot to block linebacker Darron Lee.It had to help Ohio State to know that Navy was not going to pass the ball; the Midshipmen...
The Navy football team will be sporting new Under Armour uniforms this fall.  The Midshipmen unveiled new navy blue and gold jerseys this morning. The home uniform features a navy blue jersey with six white stripes across the chest and gold pants. The away uniform features a white jersey with six blue stripes across the chest and navy blue pants.  Check them out:  Navy QB Keenan...
Keenan Reynolds ran for two more touchdowns and Navy won for only the second time its last seven bowl games, beating Middle Tennessee State 24-6 in the Armed Forces Bowl on Monday. Reynolds had a 3-yard score to cap the opening drive for Navy (9-4), and added a 1-yarder in the fourth quarter. Already with the NCAA record for touchdowns rushing by a quarterback, Reynolds upped his...
Keenan Reynolds ran through steady snow and swirling wind into the NCAA record book, helping Navy beat Army 34-7 on Saturday for its 12th consecutive victory in the series. Reynolds scored on touchdown runs of 47 yards, 11 yards and 1 yard. The sophomore has 29 rushing touchdowns, breaking the single-season mark for a quarterback previously held by Ricky Dobbs (Navy, 2009) and Collin...
Navy quarterback Keenan Reynolds set a new NCAA single-game rushing touchdown record for quarterbacks Friday night. Reynolds ran for seven touchdowns against San Jose State in the Midshipmen's 58-52 win, including the game winner in the third overtime. Reynolds carried the ball 36 times for 240 yards rushing, becoming the fourth quarterback in Navy history to run for more than...
Keenan Reynolds ran for 126 yards and three touchdowns, and Navy used a strong second half to beat Air Force28-10 Saturday in a game that survived the restrictions of the U.S. government shutdown. Although the Department of Defense has suspended athletic competition at the nation's service academies because of the shutdown, an exception was made for this event because it was...
MORE STORIES >>
College Football News

Delivered to your inbox

You'll also receive Yardbarker's daily Top 10, featuring the best sports stories from around the web. Customize your newsletter to get articles on your favorite sports and teams. And the best part? It's free!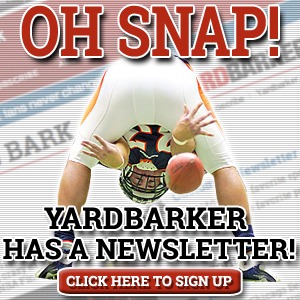 THE COLLEGE FOOTBALL HOT 10