It is still unclear whether or not Washington Huskies quarterback Keith Price will play on Saturday against after re-injuring his thumb against Arizona State. According to a report from Adam Jude of The Seattle Times, head coach Steve Sarkisian still doesn't know if Price will play: "We don't know yet," Sarkisian said, when asked about Price's status in the Pac-12 coaches'...
The first five weeks of the 2013 college football season are in the books.  After going 10-0 in last week's predictions, let's unveil the picks for the 10 best games in Week 6—which features at least eight matchups between Top 40 teams. Twitter.com/bubbaprog [RELATED: Updated College Football Rankings Entering Week 6's Action] No. 14 Washington (4-0) at No. 5 Stanford...
After a grueling offseason (waiting really is the hardest part, people) we finally got back into gear with week 1 of college football.  As seems to be the norm these days there were plenty of surprises, a handful of marquee matchups, and some absolutely jaw-dropping individual performances.  As we pack up The Tailgater grill and roll into week 2, we take a look back at the weekend...
Can Price Bounce Back? Q: "Keith, what makes you more confident that you can have a better season [in 2013]?" A: "I have a lot to prove to myself and a lot to prove to you guys…" Not sure anybody can word it better than Keith Price did himself at Pac-12 Media Day in July. The Washington Huskies have a glaring question mark of a quarterback, and his name is Keith Price....
Turning the corner? University of Washington Huskies fans have been waiting all year long for a game like this from QB Keith Price. It was presumed that after last year, Price would be one of the top QB's in the nation in 2012, but that just hasn't been the case. Some speculate that we haven't seen last years form because of all of the roster moves and shakeups that have been...
Household Name Alert: Keith Pricephoto credit: sportspressnw.com I wrote about this guy all of last season on this site. I asked college football fans to wake up and smell this kid's coffee. As some fans may have missed, there was another stud quarterback in the Pac 12 last year. He understandably flew under the radar after the likes of Andrew Luck, Matt Barkley, and Darron Thomas...
Keith Price always wears a smile. Even when he was hobbling on one healthy leg, which was the case during most of his first season as Washington's quarterback, he was smiling. It's how Price gained the nickname ''Teeth Price.'' But ask him about his remarkable sophomore season for the Huskies and his school record for touchdown passes (33), and about leading...
Steve Sarkisian's fourth year is beginning at Washington after an offseason where the Huskies underwent a complete makeover of the defensive coaching staff. The Huskies started fall camp on Monday and while there are plenty of questions about what Washington will look like on defense, they are settled at the most important offensive position with the return of quarterback Keith...
The Price is RightOne of the hidden gems of college football last year was Keith Price. He may be the most underrated player in the country. But if you're looking for the next big thing in college football, it could very well be the Washington Huskies junior signal caller. Through mid-season last year, his passing numbers were equal to, and sometimes greater than, that of his Pac...
The hits are taking a toll on Washington starting quarterback Keith Price. Coach Steve Sarkisian said Monday that Price would not practice and may not start Saturday when the Huskies play at Oregon State. If Price can't play, redshirt freshman Nick Montana would start against the Beavers. Price was to undergo an MRI exam on Monday on his injured left knee after having to leave...
MORE STORIES >>
College Football News

Delivered to your inbox

You'll also receive Yardbarker's daily Top 10, featuring the best sports stories from around the web. Customize your newsletter to get articles on your favorite sports and teams. And the best part? It's free!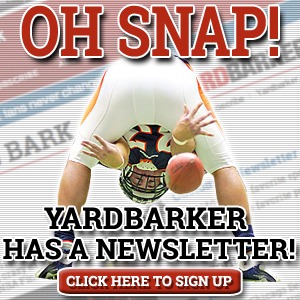 THE COLLEGE FOOTBALL HOT 10