One of the reasons I like to watch extra film is that when we go through the film as a group there isn't enough time to get a chance to really watch all of your reps closely. I always want to improve and being able to see what you're doing on film and correcting your mistakes is important to me. We watch practice film as a group between practices or if we practice at night then the...
Yardbarker has rounded up four of this year's NFL rookies to blog about their rookie seasons. "Rookie Roundup" has offense, defense, two first-round selections, and two top-10 picks: Oakland Raiders RB Darren McFadden, Cincinnati Bengals LB Keith Rivers, Tennessee Titans WR Lavelle Hawkins, and Jacksonville Jaguars LB Thomas Williams. Darren, Keith, Lavelle and Thomas will post stories...
I want to say to my teammates who are entering the Draft and who I have played with over the past four or five years, I've enjoyed every second of it. Whatever team that they go to, the fans and the teammates are going to enjoy these guys just as much as I did. I enjoyed every memory that we had, every championship that we won, and every game that we played. I hope I get a chance...
Ken Norton, Jr. has been both a coach and a mentor to me and my road dawg, Thomas Williams. We owe all of our success to him. He's taught us everything we know, and he's been there for us as a surrogate father since we're in college away from home, through the good times and the bad times. Thanks, Ken. Keith
Thanks everyone for your comments and positive messages. If you haven't seen it already on T-Will's blog, check out this video from the day after Pro Day at USC. Me and Thomas Williams recap a hard day's work.
Here's a video filmed the day after Pro Day, me and my road dawg Keith Rivers talking football in the team room at USC.
What's up, Yardbarkers? I'm excited to be joining the Yard. I'm a USC linebacker from Lake Mary, FL. I came all the way out to L.A. It's been a great four years. I'm excited to make the jump to the NFL. Just had Pro Day yesterday. Things went fairly well, and now I've got upcoming trips to visit with teams: New Orleans, New England, Detroit and Dallas. It's an exciting time but I...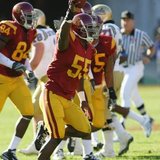 I said it the other day on my blog - Keith Rivers is my road dawg. We are in this together, preparing for the draft, and having that close relationship and experiencing the same thing at the same time makes a big difference. This has been a very long process. If you think about it, we really started this journey last July, working out with each other to get ready for our final season...
It's spring break here at USC, but you won't find me or my road dawg Keith Rivers hanging in Cabo. We are working together every day to get ready for our Pro Day workout for the NFL scouts April 2. I flew to New Jersey this past weekend to meet with a personal trainer to get some pointers on the 40, 3-cone and short shuttle. I was there Sunday through Tuesday getting coached...
I had my first individual team workout yesterday with the New England Patriots. They came in and visited with me at USC and worked me out. Even though it was my first workout and it was the Patriots I wasn't nervous at all. I was just excited. I mean I got to work out for an NFL team and that's part of the dream. They had me do 8-10 drills to see how my hips turn, how I catch the...
MORE STORIES >>
College Football News

Delivered to your inbox

You'll also receive Yardbarker's daily Top 10, featuring the best sports stories from around the web. Customize your newsletter to get articles on your favorite sports and teams. And the best part? It's free!
THE COLLEGE FOOTBALL HOT 10