Last week, it was revealed that both cornerback KeiVarae Russell and wide receiver DaVaris Daniels – two of Notre Dame's five suspended players – were not going to be afforded the chance to play for the program in 2014 due to the results of their hearings regarding the alleged academic scandal. At the time, Russell announced that he'd stick around and play for the Irish in...
It looks like the rulings on the 5 suspended Notre Dame football players have come in, and the players are starting to make their decisions on their futures. We have heard about 2 students KeiVarae Russell and Davaris Daniels, and now Coach Brian Kelly has notified us about Ishaq Williams. Last week Russell made an Instagram post where he said, "Though disappointed in the decision...
Earlier this week, Notre Dame cornerback KeiVarae Russell, one of the team's five suspended players, confirmed that he will not play during the 2014 season as a result of a reported academic scandal. Sunday, a day after the Irish upended North Carolina, head coach Brian Kelly told reporters that Russell is actually the only player of the group he's been updated on. He also said...
While 4 of the remaining 5 players of the 2014 Notre Dame Football team await their moment to respond to the findings and penalties levied on them for alleged academic fraud, cornerback KeiVarae Russell responded via Instagram his status for 2014 and beyond:"Though disappointed in the decision the school has just recently made after 2 long months of waiting for a decision to come...
Lesson to be learned here is don't put your grievances on social media. KeiVarae Russell went on Instagram and called out Notre Dame over being suspended for academic fraud. He said he was innocent and didn't know what was taking so long. Well, he has his answer now. THIS JUST IN: Suspended Notre Dame CB KeiVarae Russell won't play this year. Status of other 4 players unclear...
At least one of Notre Dame's five suspended players has learned their fate.  KeiVarae Russell, the Fighting Irish's junior cornerback who was involved in the academic misconduct scandal, will not be playing this season, according to a report by NBC Sports.  The preseason All-American candidate was told the news by Notre Dame's Honor Committee. He addressed his teammates...
KeiVarae Russell has grown tired and frustrated with the administration as he and four other players try to work their way back onto the field for the Fighting Irish. Russell voiced his frustrated on his Instagram account, but has since deleted the post. Notre Dame cornerback KeiVarae Russell has voiced heightened frustration with the school in a since-deleted Instagram post, saying...
Notre Dame DB KeiVarae Russell is one of five players suspended by the school while an investigation of potential violations of academic honesty continues. With the season already in full swing, Russell is starting to get frustrated with the school because of the time that has been wasted. Russell said he had his hearing last Friday, but hasn't heard anything. Now Russell has...
Notre Dame cornerback KeiVarae Russell has voiced heightened frustration with the school in a since-deleted Instagram post, saying it was "becoming ridiculous" after it held a disciplinary hearing over his suspension but wouldn't make a quick decision on his fate. Russell was one of five suspended Fighting Irish players awaiting hearings before the school's honesty...
Cornerback KeiVarae Russell is one of the most important Notre Dame players that has been sitting out as a part of the alleged academic impropriety involving multiple football players. The junior defensive back has opened up a bit about his status on Instagram, and while a decision has not yet been made, he doesn't seem thrilled about the process, although he believes he did all...
MORE STORIES >>
College Football News

Delivered to your inbox

You'll also receive Yardbarker's daily Top 10, featuring the best sports stories from around the web. Customize your newsletter to get articles on your favorite sports and teams. And the best part? It's free!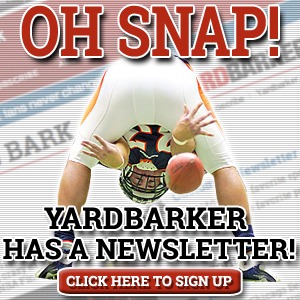 THE COLLEGE FOOTBALL HOT 10