In three seasons, Nebraska wide receiver Kenny Bell has 134 recptions, 1,901 receiving yards and 15 receiving touchdowns. He has been selected to first team All-Big Ten, Big Ten All-Freshman Team and the Nebraska Scholar-Athlete Honor Roll. But for a week and a half, Bell did not have utilities. "I went without power for like a week and half," Bell told CBS Sports'...
Kenny Bell may have led the Cornhuskers in receiving yards the last three-straight seasons, but apparently the water and energy companies in the area aren't too worried about ensuring he makes it a fourth. According to Dennis Dodd of CBS Sports, the star wideout was forced to go almost two weeks without power or running water, after running out of money. To help rectify the situation...
University of Nebraska senior wide receiver Kenny Bell is poised to become the Cornhuskers' all-time leader in receptions and receiving yards — but he ended up becoming a part-time bartender so that he could get his electricity and water turned back on in his house.   
Nebraska wide receiver Kenny Bell, who is set to break many Cornhuskers receiving records in his upcoming senior year, will be sporting a new look his fall. Bell, who easily had the best afro in all of college football, lost a bet to Northern Colorado DE Devontae Chapple and was forced to shave it off. It is truly the end of an era. Lost a bet and my brother @runDMChap_91 made me...
Seemingly, Saturday night college football games are a winning combination for all involved. Fans get to tailgate all day and watch their team play during primetime, while players get to play under the lights for a larger television audience. But Nebraska wide receiver Kenny Bell is painting a much different picture. Bell, upon learning that the Cornhuskers will have four night games...
Star Nebraska Cornhuskers wide receiver Kenny Bell pulled off a slick tip drill to haul in a Taylor Martinez pass and score the touchdown while seated.
After a day off to enjoy some great weather and a little Sunday Funday activities it's back to the countdown here at The B1G Time. For the 2nd straight time on our list we've got a first entrant for a team, this time from the Nebraska Cornhuskers.  However, we are sticking with the same position after we left you with a look at No. 17 Cody Latimer of the Indiana Hoosiers...
Spring practice in Lincoln, Nebraska certainly got off to a lighthearted start.  Wide receiver Kenny Bell walked out to Nebraska's first day of spring practice wearing a Ghillie Suit, and it seems like he just came out of the woods from hunting.  What we later learned is that it was for the Nebraska Cornhuskers Harlem Shake video. Perhaps Bo Pelini went through some anger management...
Nebraska didn't have many highlights from Saturday night's loss to Wisconsin, but there were a few noteable plays for the Cornhuskers.  In...
Wisconsin may have destroyed Nebraska, 70-31, on Saturday, but the Cornhuskers did dominate this one play in particular.Watch as Nebraska's Kenny Bell gets leveled by Wisconsin's Devin Smith during the Big 10 Championship Game. Smith was able to walk off the field on his own power, but he did appear shaken up on the sideline.Via Big Lead Sports.Here's another angle of...
MORE STORIES >>
College Football News

Delivered to your inbox

You'll also receive Yardbarker's daily Top 10, featuring the best sports stories from around the web. Customize your newsletter to get articles on your favorite sports and teams. And the best part? It's free!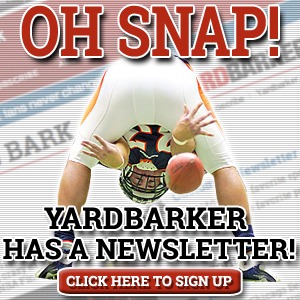 THE COLLEGE FOOTBALL HOT 10