Every week, or two weeks, or seven weeks, or most likely whenever the NFL loses his interest, Sam Quinn will dive into the body of work of one Heisman Trophy candidate and attempt to figure out where he stands in the race for the biggest award in sports. Heisman voters tend to be pretty wary of gimmicks. Maybe they just understand that they were burned by Ty Detmer and Andre Ware...
 The Texas A&M Aggies are pretty good.  Just how good?  Well fortunately for us we'll be able to see it play out on the field and not have to worry about rankings.  Kevin Sumlin has a lot of good young talent emerging as playmakers.  The spotlight is on sophmore Kenny Hill who came to the Aggies from Southlake Carrol high school.  For those of you not from Texas......
As the college football nation watched Kenny Hill thrash South Carolina's defense on Aug. 28, many began to compare the Texas A&M quarterback to his predecessor, Johnny Manziel. Since the redshirt sophomore is replacing the Aggies' most recent Heisman winner, some began to call Hill "Kenny Hill" in homage to Manziel's nickname.  Hill doesn't like that nickname, though...
It appears that Aggies quarterback Kenny Hill isn't the only record-breaker on campus at Texas A&M these days. Tuesday, the school announced that this past Saturday, the program set a new NCAA attendance record for students attending a home college football game. The Aggies drew over 104,000 fans for the opening of their expanded stadium – 38,800 of them were students. And...
How many pictures did Johnny Manziel take with fans while playing at Texas A&M?  100? 1,000? 10,000?  We'll never know the exact answer, but it's likely a lot closer to that latter number than it is to the former. We will know how many pictures Manziel's replacement, redshirt sophomore Kenny Hill, takes with his admirers, though. That's because that number will be zero...
Jeremy Brevard-USA TODAY Sports The No. 9 South Carolina Gamecocks were expected to take their game against the No. 21 Texas A&M Aggies at home last night, but it didn't work out quite like that. Texas A&M came out strong right off the bat and went ahead to take a 31-14 lead heading into halftime. They didn't appear to miss Johnny Manziel too much as Kenny Hill came through...
Kenny Hill. Via Dr. Saturday. What to make of Texas A&M starting quarterback Kenny Hill's performance Thursday night in the Aggies' somewhat surprising victory over South Carolina? While the cries of "Johnny Who?" have already made the rounds, proclaiming Hill as the next college football superstar might be a little premature.Yes. Hill's 511 yard, three...
Kenny Hill might have reminded Texas A&M fans of Johnny Manziel Thursday night, as the redshirt sophomore tore up a South Carolina defense on way to a blowout 52-28 victory against in Columbia.  The Aggies' quarterback deserves a nickname not evoked from his former teammate, though.  Hill: I don't really like "Kenny Football." [crowd burst in laughter] — Gabe Bock...
Who needs Johnny Football? It didn't take long for the first stunner of the college football season. On opening night in Columbia, the No. 9 South Carolina Gamecocks were taken to task by No. 21 Texas A&, 52-28, in the Aggies' first game of the post-Johnny Manziel era. Fittingly, the star of the contest was Manziel's replacement, Kenny Hill. The sophomore signal caller...
Move over Johnny Manziel, Kenny Football has arrived. In the first SEC game of the 2014 college football season, Texas A&M has a new star quarterback, and his name is Kenny Hill. The No. 21 ranked Aggies were alive early and often against No. 9 South Carolina, in South Carolina, as they came away with a […]
MORE STORIES >>
College Football News

Delivered to your inbox

You'll also receive Yardbarker's daily Top 10, featuring the best sports stories from around the web. Customize your newsletter to get articles on your favorite sports and teams. And the best part? It's free!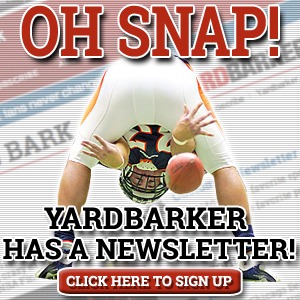 THE COLLEGE FOOTBALL HOT 10