Kenzel Doe #3 of the Wisconsin Badgers runs with the football on a kick return during first half of the game at Camp Randall Stadium. (Mandatory Credit: Mike McGinnis/Getty Images) The Wisconsin Badgers absolutely destroyed the Bowling Green Falcons on Saturday by the score of 68-17. The Badgers set a Big Ten record by rushing for 644 yards. Melvin Gordon led the way with 253 yards...
  Wisconsin Badgers beat writer Jesse Temple will be analyzing the 25 most important players to the Badgers' success in the 2014 season. Check back each weekday to see the latest player on the list. You can find every report here. Note: This is not a list of the team's 25 best players or a series about past success, but rather which of them means the most to how Wisconsin...
MADISON, Wis. -- Wisconsin wide receiver Kenzel Doe, you may have heard by now, is not a particularly big man. At 5-foot-8, he is one of the shortest players on the team, in fact. And his weight of 170 pounds is less than every single player but one backup kicker. For the purpose of comparison, consider that the average height and weight of the Big Ten's top 10 receivers last...
Wisconsin's Kenzel Doe scored an electric 91-yard touchdown on a kickoff return against South Carolina in the Capital One Bowl.
Wisconsin's Kenzel Doe proved that the Big Ten does have some SEC-worthy speed. Doe scored on a 91-yard kickoff return against South Carolina in the Capital One Bowl on Wednesday. The best part of the play was Doe utilizing a mean stiffarm to help him break free at around the 32-yard line. The special teams […]
MADISON, Wis. -- The college football season is short enough as it is with only 12 guaranteed games per season. For Kenzel Doe, a playmaker still trying to find his footing on Wisconsin's team, the last thing he wanted was to sit out two of those games with an injury. But that's exactly what happened to the Badgers' 5-foot-8 speedster. Doe strained a hamstring in practice...
It's no secret we love us some Kenzel Doe here at MTB, but that's because the guy has been one of the most fun and insightful interviews on the Badger team. That said, for all of his quotability he hasn't accomplished much on the field and some have openly questioned whether a small guy like Doe (and if you've seen him in person I don't think you'd say that...
MADISON, Wis. Wisconsin coach Bret Bielema is providing Kenzel Doe with another opportunity to field punts this week against Purdue.The move is noteworthy because Doe muffed two punts last week against Illinois and finished the game with three punt returns for minus-three yards. Jared Abbrederis, one of the top punt returners in college football last season, took his spot for the...
MADISON, Wis. Scan Wisconsin's entire 113-man football roster, and not one player comes close to matching the diminutive stature of 5-foot-8, 170-pound wide receiver Kenzel Doe. Backup defensive backs stand 5-11. Even the team's starting place kicker is 6-1, 193 pounds. But Doe possesses several qualities that make him stand out in a crowd. "Small guy but big heart...
Down 14-3 in the third quarter, Wisconsin's Kenzel Doe returns a Utah State punt 82 yards for a much needed Touchdown. Wisconsin would score again in the 3rd quarter on a 17 yard Touchdown run by Montee Ball. However, the Badgers would miss the extra point leaving Wisconsin with only a two point lead. The Aggies would end the game attempting a 37 yard field goal with 11 seconds...
MORE STORIES >>
College Football News

Delivered to your inbox

You'll also receive Yardbarker's daily Top 10, featuring the best sports stories from around the web. Customize your newsletter to get articles on your favorite sports and teams. And the best part? It's free!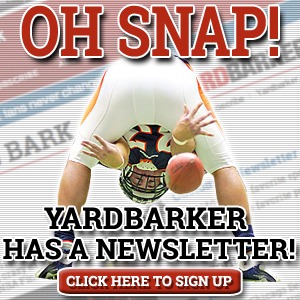 THE COLLEGE FOOTBALL HOT 10