It's good to have goals, right? Well don't fault Kansas' defense from shying away from setting some pretty lofty goals for next season. According to the Topeka-Capital Journal, the Jayhawks are setting out to have the best defense in the Big 12 next season. "From the outside, I bet people will hear that and be like, 'Ha,' " D-Lineman Keon Stowers said. "But...
It's doubtful anybody calls Jadeveon Clowney "Doo Doo" these days, but according to a childhood friend that's what college football's most feared player was known as once upon a time. How does one wind up with such a moniker? Warning: It's gross. We'll let Kansas defensive lineman Keon Stowers explain, per this KUSports.com story . "When we...
It must be nice to be a childhood friend of Jadeveon Clowney, and not having to truly suffer the raft of exposing a story that could actually embarrass the consensus top player in college football. Kansas defensive tackle Keon Stowers has known Clowney since they were kids, long before the Michigan hit, and rumors of Jay Z courting Clowney. Stowers though doesn't refer to Jadeveon...
MORE STORIES >>
College Football News

Delivered to your inbox

You'll also receive Yardbarker's daily Top 10, featuring the best sports stories from around the web. Customize your newsletter to get articles on your favorite sports and teams. And the best part? It's free!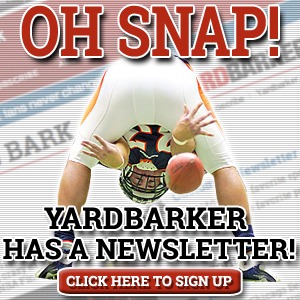 THE COLLEGE FOOTBALL HOT 10