A day after it became public that the quarterback job at Texas A&M is up for grabs between Kenny Hill and Kyle Allen, head coach Kevin Sumlin made it clear that holds true for more than just the quarterback spot. "More's been made out of that," Sumlin said. "My exact words were 'All jobs were open'. People just chose to pick on that one. Exactly what...
Texas A&M coach Kevin Sumlin said all the right things Tuesday afternoon in terms of trying to get the reeling Aggies program aimed back in the right direction – and he said there's been a whole lot more talk behind closed doors along those same lines. "There isn't anything that's off the table – any position – and we're evaluating where we are right now,"...
Texas A&M's 59-0 loss to Alabama on Saturday was easily the worst of Kevin Sumlin's three seasons in College Station. The Aggies had...
It was a little less than two months ago when Kenny Hill burst onto the college football scene, throwing for a school record 511 yards and three touchdowns in Texas A&M's season-opening blowout 52-28 victory against South Carolina.  There was Heisman talk, whispers of Hill being better than Johnny Manziel and predictions that the Aggies would make the College Football Playoff...
Johnny Manziel likely learned a lot of things from Kevin Sumlin during his time at Texas A&M – how to run a spread offense, how to read zone pass coverages, etc.  Perhaps the Heisman winner known for partying learned how to have a good time from his coach, too.  The rapper, Stalley, appeared on ESPN's "Highly Questionable" show with Dan Le Batard and Bomani Jones on...
Kevin Sumlin put Steve Spurrier in his place after the Head Ball Coach took a shot at the Aggies for playing Lamar.
Texas A&M head coach Kevin Sumlin was a little excited following his team's 52-28 blow out win over South Carolina on Thursday night. The post Texas A&M HC Kevin Sulin went nuts after blow out win over South Carolina (Video) appeared first on NCAA Football Zone.
It didn't take long following Texas A&M's blowout victory against South Carolina to realize how much the win meant to Kevin Sumlin.  "Nobody gave us a chance. I think we proved we're not a one-trick pony," the Aggies' coach told the SEC Network's sideline reporter. "We're not going anywhere any time soon." Texas A&M beat the Gamecocks Thursday night...
Texas A&M opens its season with a huge game against South Carolina on the road, and Aggies head coach Kevin Sumlin wants to be sure that every Aggies fan is out of work in time to catch the 6 p.m. EST kick-off. Sumlin (or someone on the Texas A&M staff) wrote and signed a letter that has been posted on 12thMan.com, asking the bosses of Aggies fans to let them go home a bit...
Texas A&M head coach Kevin Sumlin should just head west after Johnny Manziel goes pro and becomes the next starting quarterback for the Philadelphia Eagles. The Los Angeles Daily News is reporting that Sumlin is the top target for USC. Sumlin, who has won 30 games the past 2 1/2 seasons at Houston and Texas A&M, is also mentioned as a possible candidate at Texas and is one...
MORE STORIES >>
College Football News

Delivered to your inbox

You'll also receive Yardbarker's daily Top 10, featuring the best sports stories from around the web. Customize your newsletter to get articles on your favorite sports and teams. And the best part? It's free!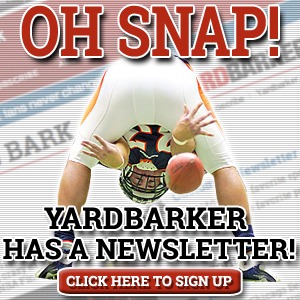 THE COLLEGE FOOTBALL HOT 10