Now we know why Texas A&M's players were so excited earlier today.  Thursday morning, the Aggies' players were tweeting about their facility, which comes as part of a $450 million expansion and upgrading of Kyle Field. Now we know what why they were so joyed.  The Aggies have released a video of their new locker room. It looks incredible.  Check it out:    That locker...
Texas A&M opens its third set of fall practices under Kevin Sumlin searching for answers on both sides of the ball. The Aggies went 4-4 in SEC...
Thanks to the recent rash of Texas A&M player arrests, Kevin Sumlin had plenty to talk about at his Friday night meeting with the Houston A&M Club. But his juiciest quote was -- not too surprisingly -- reserved for Oklahoma's Bob Stoops. At Big 12 Media Days, Stoops listed the Aggies' 2014 nonconference schedule (from memory) and with no small amount of sarcasm called...
Texas Longhorns head coach Charlie Strong has been making headlines of late after supposedly kicking several players off the team (no official announcement has been made yet). As could be expected, the news has elicited a number of responses from fans, media, players, and coaches alike.The one opinion that has garnered the most attention is that of his in-state rival, Texas A&amp...
Oklahoma coach Bob Stoops hasn't been afraid to voice his opinions about the SEC. Texas A&M and Oklahoma might not be conference rivals anymore, but Stoops took a shot at the Aggies earlier this week when discussing strength of schedule and the new college football playoff.   "They have Lamar, Rice, SMU and Louisiana-Monroe," Stoops said on ESPN. "Boy, those...
Texas and Texas A&M are in different conferences and apparently the school's football coaches operate differently when it comes to player discipline, too.  Charlie Strong kicks players off his team, Kevin Sumlin likes to keep them around and turn them into men. That seems to be the opinion of the Aggies' coach, anyway.  Sumlin said it's easy to kick a guy off the team...
Baylor got one over on in-state recruiting power Texas A&M. Within days of Texas A&M head coach Kevin Sumlin explaining how Texas A&M's recruiting efforts have been so successful since joining the SEC, the Aggies lost one of the nation's top offensive linemen in the Class of 2015 to Baylor. Patrick Hudson, a 6'5″, 330 pound offensive tackle, had been committed...
We are getting close people. In a few short weeks college football teams will start practicing and a few weeks after that we will have games. Till then we get a teaser of things to come; something to wet our appetites for the game--thing like the SEC Media Days.On Tuesday it was Texas A&M head coach Kevin Sumlin's turn to take the podium--and he didn't disappoint...
Texas A&M's Kyle Field is currently being renovated at the price of $450 million. The improvements to the Aggies' football stadium, which will be finalized by 2015, will include increased capacity (102,512), a massive scoreboard, and brand new seating structures on various sides of the complex.  Tours of Kyle Field will not be available until the renovations are complete...
The first major game of the 2014 college football season features Texas A&M and South Carolina. The Aggies and the Gamecocks will meet in Columbia, S.C. on Thursday, Aug. 28 at 6 p.m.  It's the first matchup of the two schools since Texas A&M joined the SEC, meaning it's also the first bout between Aggies' coach Kevin Sumlin and South Carolina coach Steve Spurrier...
MORE STORIES >>
College Football News

Delivered to your inbox

You'll also receive Yardbarker's daily Top 10, featuring the best sports stories from around the web. Customize your newsletter to get articles on your favorite sports and teams. And the best part? It's free!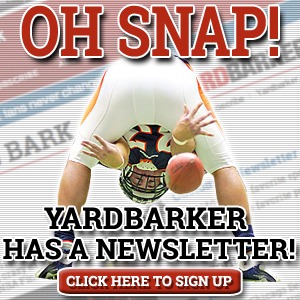 THE COLLEGE FOOTBALL HOT 10