Kevin Sumlin has decided who his starting quarterback will be against Missouri.  No surprise: it's Kyle Allen.  The true freshman will start for Texas A&M after leading the Aggies to an upset victory against Auburn.  Sumlin: Kyle Allen [will start] Saturday. — TexAgs (@TexAgs) November 11, 2014 Allen, a former five-star recruit, threw for 277 yards, four touchdowns and...
After a month of bad play, the Texas A&M football team finally had something to celebrate this evening.  The Aggies, who had lost three of their last four games, upset No. 3 Auburn at Jordan-Hare Stadium tonight, 41-38. Kevin Sumlin's team secured the victory after a fumbled snap exchange by the Tigers as they attempted to tie or win the contest with less than a minute left...
Texas A&M's 59-0 loss to Alabama on Saturday was easily the worst of Kevin Sumlin's three seasons in College Station. The Aggies had...
Kevin Sumlin put Steve Spurrier in his place after the Head Ball Coach took a shot at the Aggies for playing Lamar.
It didn't take long following Texas A&M's blowout victory against South Carolina to realize how much the win meant to Kevin Sumlin.  "Nobody gave us a chance. I think we proved we're not a one-trick pony," the Aggies' coach told the SEC Network's sideline reporter. "We're not going anywhere any time soon." Texas A&M beat the Gamecocks Thursday night...
Texas A&M opens its season with a huge game against South Carolina on the road, and Aggies head coach Kevin Sumlin wants to be sure that every Aggies fan is out of work in time to catch the 6 p.m. EST kick-off. Sumlin (or someone on the Texas A&M staff) wrote and signed a letter that has been posted on 12thMan.com, asking the bosses of Aggies fans to let them go home a bit...
Texas A&M head coach Kevin Sumlin should just head west after Johnny Manziel goes pro and becomes the next starting quarterback for the Philadelphia Eagles. The Los Angeles Daily News is reporting that Sumlin is the top target for USC. Sumlin, who has won 30 games the past 2 1/2 seasons at Houston and Texas A&M, is also mentioned as a possible candidate at Texas and is one...
Kevin Sumlin didn't say much and he didn't need to. He let last season's result do the talking. During a Dallas A&M Club event Thursday night at Gilley's Dallas, the Texas A&M coach took questions from the crowd to cap the evening. The question that received the shortest response was one about the Alabama football team hanging Texas A&M signs in their...
Probably in the past, you recruited football players by talking to them about your program and their opportunity to play in it. You'd tell the mom about the academic opportunities. You'd take them around campus and make sure they saw all the pretty girls. You'd show them the trophy case. That is of a bygone era. You know what you need now? A DJ. Friday night, Texas...
MORE STORIES >>
College Football News

Delivered to your inbox

You'll also receive Yardbarker's daily Top 10, featuring the best sports stories from around the web. Customize your newsletter to get articles on your favorite sports and teams. And the best part? It's free!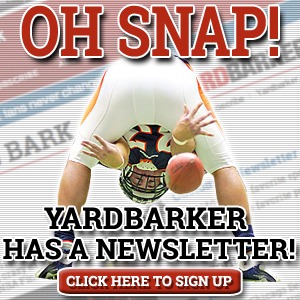 THE COLLEGE FOOTBALL HOT 10