News out of College Station, Texas is that Texas A&M coach Kevin Sumlin announced that Kenny Hill has been named Johnny Manziel's successor.  Hill won the job over highly touted Freshman Kyle Allen. Hill certainly needs to focus on winning football games and not on the reputation Johnny 'Football' Manziel set while he was the top signal caller. Anything less and you can...
Roney Elam. Via SB*Nation.Texas A&M head coach has posted another one of his patented "YESSSIR" tweets.#YESSIR!— Kevin Sumlin (@CoachSumlin) August 15, 2014 That can only mean one thing. The Aggies have added another has added another prospect to its 2015 recruiting class. This time, it's Newton, Tx four-star high school senior cornerback prospect Roney Elam who...
Texas A&M coach Sumlin took his team to the movies to reportedly watch Guardians of the Galaxy.  Earlier, Alabama Coach Nick Saban took his team to watch Transformers.  It's awesome being able to see coaches who have the ability to realize that their are times when their team may need a little break.  This is also a great way to bond while staying loose.  Nice pick too...
Texas A&M faces a tough season-opening challenge on the road against South Carolina in two weeks, but the Aggies aren't stressing about it.  Kevin Sumlin has always been a laid back coach and decided he'd rather take his team to the movies instead of practice on Wednesday.  After his players put on their pads and were ready to work, Sumlin gathered everyone and made...
Want to make hulking, intimidating men act like the little boy that lies dormant deep inside them? Just give them a surprise trip to the movies. Texas A&M head coach Kevin Sumlin had his Aggies...Story
It's easy to see why Texas A&M Aggies head coach Kevin Sumlin does so well recruiting. It would be tough to say no to a guy who does stuff like this to give his guys time off. [YouTube] The post Kevin Sumlin Cancels Practice In Favor Of Movies, Team Goes Nuts appeared first on Diehardsport.
College programs are right in the heart of fall camp, and many programs have two-a-days during these crucial weeks. Needless to say, the players will take a break whenever they can get it, and Kevin Sumlin made his Aggies' wishes come true. At the conclusion of one practice, Sumlin told his team that instead of a late practice, they would be heading to a movie. The Aggies were...
Kevin Sumlin is turning Texas A&M into one of the country's most sought after football programs for recruits, so it should come as no surprise that the Aggies blare music during their fall camp practices.  It also should not be shocking that the Aggies' playlist for their first day of camp featured a lot of songs from Drake, the rap star close to former Texas A&M Heisman...
Texas and Texas A&M are in different conferences and apparently the school's football coaches operate differently when it comes to player discipline, too.  Charlie Strong kicks players off his team, Kevin Sumlin likes to keep them around and turn them into men. That seems to be the opinion of the Aggies' coach, anyway.  Sumlin said it's easy to kick a guy off the team...
The first major game of the 2014 college football season features Texas A&M and South Carolina. The Aggies and the Gamecocks will meet in Columbia, S.C. on Thursday, Aug. 28 at 6 p.m.  It's the first matchup of the two schools since Texas A&M joined the SEC, meaning it's also the first bout between Aggies' coach Kevin Sumlin and South Carolina coach Steve Spurrier...
MORE STORIES >>
College Football News

Delivered to your inbox

You'll also receive Yardbarker's daily Top 10, featuring the best sports stories from around the web. Customize your newsletter to get articles on your favorite sports and teams. And the best part? It's free!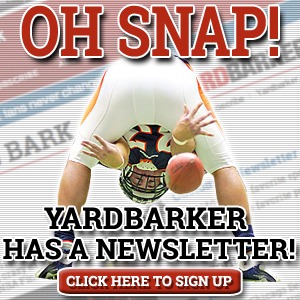 THE COLLEGE FOOTBALL HOT 10