MAC football has produced its fair share of great games–which has popularized #MACtion on Twitter–and collegiate stars (Ben Roethlisberger, Jordan Lynch, and Kahlil Mack, to name a few) over the last decade, but the rise in the talent for each of the thirteen teams in the conference means a rise in the stakes for each of the conference's thirteen head coaches. Buffalo head...
The University of Buffalo announced a Black Out for its September 12th home game against Baylor and will wear an all Black helmet.  The Bulls will be dawning black pants, black jersey, and new black helmet combination as they take on the Baylor Bears of the Big 12 Conference (ESPN at 8:00pm). Buffalo is also asking for their fans to wear the official blackout shirt.  The Bulls...
With the fifth pick in the 2014 NFL Draft the Raiders bolstered their defense by selecting outside linebacker Khalil Mack from Buffalo. 6-foot-3 251 pounds Selection: First round, No. 5 overall Chosen ahead of: OT Jake Matthews, OT Taylor Lewan, WR Mike Evans, DT Aaron Donald College career: All-time Division-I leader in forced fumbles (16) and tackles for loss (75). He...
Buffalo linebacker Khalil Mack as the top prospect is gaining more steam as the Jadeveon Clowney wagon seems to be slowing down. NFL Films senior producer Greg Cosell is the latest to tout Mack as the top prospect in this year's draft. "I think Mack is a better prospect as we speak today," Cosell said on the "Around The League Podcast." "And he'...
Khalil Mack LB Buffalo #46 Ht: 6'3″ Wt: 251 All of our scouting reports are limited to our premium customers. If you would like access to all of our 2014 scouting reports, click here to sign up. Comments: Mack has elite potential, but it does somewhat depend on where he lands in the NFL. He projects as an elite strong-side linebacker in a 4-3 scheme, where he'll have plenty...
Buffalo Player: Khalil MackSchool: BuffaloPosition: Outside linebackerHeight: 6-foot-3Weight: 251 poundsCollege stats: 186 tackles, 75 tackles for loss, 28.5 sacks Analysis: Mack first burst onto the national scene in Buffalo's first game of 2013 against Ohio State. Mack had nine tackles, 2.5 sacks and an interception returned for a touchdown against a solid Buckeye offensive...
PHOTO COURTESY: UBBULLS.COM There has been a lot of debate on who the Houston Texans will take with the first overall pick.  Teddy Bridgewater? Jadaveon Clowney? Johnny Manziel? The NFL Network's Mike Mayock thinks they should go in a different direction. In an interview with Minneapolis radio station KFAN, Mayock said he would take Khalil Mack from Buffalo with the first pick...
A third-team all-Florida defender his senior year of high school, Khalil Mack, now at the University of Buffalo, wound up playing Division 1 football nearly 1,300 miles away from his hometown of Fort Pierce, Florida. Now, everyone is guessing where he'll play next.   Mack is on the top of everyone's big boards and mock drafts at the moment, and could potentially...
Mack going for a sack against UCONN. (Paul Hokanson/UB Athletics) Football is normally a sport in which offensive stars steal the spotlight, become the face of a team and are shown all over the highlights. At the University at Buffalo however, it's a defensive player by the name of Khalil Mack that's running the show. A star among Bulls fans since his freshman year, Mack is now...
University at Buffalo star linebacker Khalil Mack has been suspended indefinitely for violating an unspecified team policy. Mack's suspension began Saturday, when he missed a team scrimmage. The junior is coming off a season in which he led the Bulls with 5 1/2 sacks, 20 1/2 tackles for a loss and five forced fumbles to earn first-team Mid-American Conference honors. Last...
MORE STORIES >>
College Football News

Delivered to your inbox

You'll also receive Yardbarker's daily Top 10, featuring the best sports stories from around the web. Customize your newsletter to get articles on your favorite sports and teams. And the best part? It's free!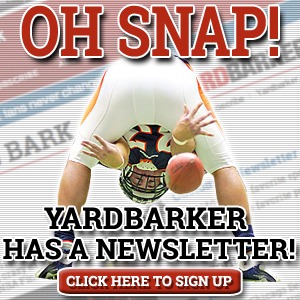 THE COLLEGE FOOTBALL HOT 10