MADISON, Wis. -- Kyle French will never know whether things would have turned out differently if he'd only made that 38-yard field-goal attempt two Saturdays ago against Northwestern. He'll be left to wonder if one single kick that sailed wide left doomed his career as Wisconsin's starting kicker. He will admit his demotion was partially due to a culmination of misfires...
MADISON, Wis. -- Kyle French lost more than his starting kicking job when he missed a 38-yard field goal wide left against Northwestern last week. Apparently, he also will lose his scholarship. French, a redshirt junior from Menomonee Falls, Wis., posted on his Facebook page Thursday night that he would not be back with the team for his senior season. "I want to personally...
Last week the Badger faithful saw Kyle French miss a 38-yard field goal attempt against Northwestern. It led to Jack Russell taking the rest of the kicks for the game and a new plan to have Russell be the kicker of choice this week at Illinois.  However, it appears that French's time with the program is coming to an end at the end of this season, at least according to his...
For each of the past few seasons, it just seemed as though Wisconsin couldn't catch a break. Apparent bad luck and bad timing characterized each of the several close losses of the past few years. They say football is a game of inches, and the Badgers always seemed to be a few inches short. Yet Saturday's loss to No. 4 Ohio State demonstrated that for all the heartbreak, Wisconsin...
MADISON, Wis. -- If there is one thing Kyle French has learned from his yearlong starting kicker battle with Jack Russell, it's that thinking on the field -- about mechanics, crowd noise, game situation, anything -- is never good. Thinking about losing a starting spot? That's even worse. This week, as French and Russell continue a seemingly endless competition to take over...
MADISON, Wis. -- The Kyle French of last year would probably still be seething about missing a 38-yard field goal attempt wide right in practice on Thursday. He would agonize over his form, wonder if he would make the next one, compare his statistics to teammate Jack Russell and fear he might lose his starting spot. In short, he would be so deep inside his own head that he'd...
What's up with Kickers and high numbers at Wisconsin, right? No seriously, we're now already on to our 2nd kicker in our countdown to 2013 Badger football kick-off on August 31st.  Today it's Kyle French to Badger football, meaning it's all of 94 days away. After struggling a bit in 2012 and getting some push from Jack Russell it appears that French has the confidence...
We all know that the Badgers are back-to-back-to-back Big Ten champions and represented the conference in the last three Rose Bowls, becoming the only team in conference history not named Michigan or Ohio State to do that. With that honor the Badgers players get rings to commemorate another Big Ten championship.  Here's a look at them courtesy of Kyle French's Facebook...
This one comes to you courtesy of the "if you care about these sort of things" file. Wisconsin players have received their 2012 Big Ten championship rings, marking their 3rd straight conference title from this past season. Here is one look at the ring courtesy of kicker Kyle French's Facebook page: Pretty plain and not super gaudy... of course we can't...
The news of Danny O'Brien winning the starting quarterback job probably came as little to no surprise to anyone, but the other bit of news coming out of Badgers camp this weekend probably does surprise a few people and that news is there is a real battle going on at the Kicker spot. A lot of people (myself included) assumed that Kyle French had the starking place kicking duties...
MORE STORIES >>
College Football News

Delivered to your inbox

You'll also receive Yardbarker's daily Top 10, featuring the best sports stories from around the web. Customize your newsletter to get articles on your favorite sports and teams. And the best part? It's free!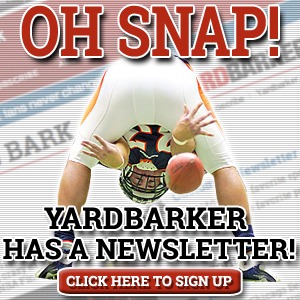 THE COLLEGE FOOTBALL HOT 10