The UCLA Bruins have put out a video featuring an imaginary world where quarterback Brett Hundley is in charge of enforcing campus rules and keeping the campus clear of evil Trojans' fans.Hundley (the "Campus Enforcer") is joined in his superhero quest by "Hype Man" Luke Gane. Taking two pieces of fruit from the dining hall is the ultimate downfall of UCLA...
Since bursting onto the college football scene two years ago, UCLA quarterback Brett Hundley has been a relevation for the Bruins as a productive dual-threat quarterback. He might have to change that title to "triple threat." Hundley teamed up with head coach Jim Mora and teammate Luke Gane to star in a hilarious video in which Hundley acts as the "Campus Enforcer." Aided...
Imagine if the star quarterback of a college team was allowed to enforce the campus rules?  Would it involve throwing footballs at the rule breakers like something out of a Hollywood comedy? That's what students at UCLA came up with in this hilarious video featuring quarterback Brett Hundley enforcing various campus rules such as not talking in class, not smoking in a non-smoking...
A cocky, loud-mouthed 20-something-year-old is making a disturbance in the middle of your English 110 class. He's talking, flirting with the cute girl next to him, and blatantly ignoring the lecture on AP Style.  What do you do?  Call UCLA quarterback Brett Hundley, apparently. (On the Southern California campus he's also known as "Campus Enforcer)  The video, produced...
MORE STORIES >>
College Football News

Delivered to your inbox

You'll also receive Yardbarker's daily Top 10, featuring the best sports stories from around the web. Customize your newsletter to get articles on your favorite sports and teams. And the best part? It's free!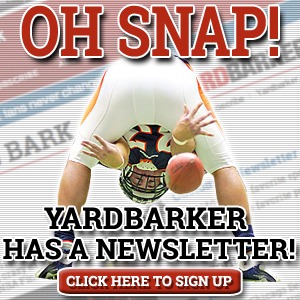 THE COLLEGE FOOTBALL HOT 10