JACKSONVILLE, Fla. -- It's as if Luke Joeckel has a new twin in his life.The Jacksonville Jaguars' first-round draft pick grew up facing the inevitable comparisons between himself and his twin brother, Matt. Although they both made their way to Texas A&M to play football, their separate identities had been forged by that point."We went into high school probably about...
JACKSONVILLE, Fla. The Jacksonville Jaguars, looking to shore up what was one of the NFLs leakiest offensive lines last season, drafted tackle Luke Joeckel of Texas A&M with the No. 2 pick of the NFL Draft on Thursday night. It marks only the third time since the Jaguars drafted Tony Boselli with their first ever pick in 1995 that a tackle has been selected second overall...
One of the main concerns, when projecting the NFL draft, is the uncertainty of where a player is going to land. It is an educated guess, and everyone has one. One projection that everyone seems to be on the same page with is of the destiny of Texas A&M offensive tackle, Luke Joeckel. According to NFL.com "Luke is a technician with an athletic build, Joeckel excels as a pass...
Texas A&M offensive tackle Luke Joeckel enters the 2013 NFL Draft as the premiere prospect available. Joeckel is the quintessential 'franchise' left tackle that every team across the league hopes to find in the annual college draft.Joeckel will be an immediate starter in the NFL, and could end up being one of the top five tackles in the entire league in just a few short years...
CUTTING LOOSE
It was only a matter of time. With the "Harlem Shake" dance currently sweeping the country, several NFL draft prospects jumped on the chance to participate in the latest craze. For those who don't know, the dance starts with one person (in this case, speed coach Loren Seagrave) busting a few moves while bystanders act oblivious. Eventually, all hell breaks loose...
COLLEGE STATION, Texas -- Texas A&M offensive tackle Luke Joeckel (JOKE'-ell) is choosing the NFL over a final season of blocking for Heisman Trophy winner Johnny Manziel. The Outland Trophy winner said Tuesday he thought it was in his "best interest" to enter April's NFL draft. Aggies coach Kevin Sumlin said Joeckel was projected as a high first-round pick...
It's not often that we report on early declarations for the NFL Draft here at Crystal Ball Run (we leave that up to the NFL guys) but in terms of Texas A&M left tackle Luke Joeckel, we'll make an exception. The 6'6 310 lb. Outland Trophy winner announced he would enter the NFL Draft Tuesday afternoon, and may have shaken up the 2013 BCS title race because of it. But...
The Texas A&M Aggies lost a second key junior to the NFL Draft on Tuesday as left offensive tackle Luke Joeckel has decided to forgo his senior season. The 6-foot-6, 310-pound Joeckel could be the No. 1 overall pick in April's draft. The Arlington High School graduate is coming off a season in which he was a consensus All-America and won the Outland Trophy while protecting...
The Texas A&M football team had a breakout campaign in 2012 as the Aggies held their own in their inaugural SEC season finishing 10-2. Luke Joeckel was a valuable member of the OL that protected record breaking QB Johnny Manziel, and he was rewarded for his efforts Thursday night winning the Outland Trophy Award.
#76 Luke Joeckel, Texas A&M Height:6'0 Weight:310 Luke Joeckel heads into his Junior year having already started 26 games (every game since being a true freshman in 2010). He was selected First-Team All-Big 12 by the Associated Press for his efforts in the 2011 season. Joeckel heads into the 2012 campaign on many preseason All-American list and looks to have an All-American...
MORE STORIES >>
College Football News

Delivered to your inbox

You'll also receive Yardbarker's daily Top 10, featuring the best sports stories from around the web. Customize your newsletter to get articles on your favorite sports and teams. And the best part? It's free!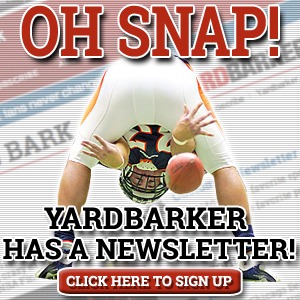 THE COLLEGE FOOTBALL HOT 10