Mack Brown came to Texas in 1998 and told a frustrated fan base to ''Come early, be loud and stay late.'' Sixteen years later, many obeyed him again one last time, sticking around even after another pummeling in an underachieving season. Now they'll find out what the post-Mack Brown era holds. The Longhorns don't want it to resemble this: Getting crushed...
Mack Brown slung his arm around his wife and headed toward a section of Texas fans who stuck around to the end of another disappointment. He flashed the ''Hook `em Horns'' sign and disappeared into the tunnel, showered with applause after his worst bowl loss in 16 years. This is how the Mack Brown era ends at Texas. Brown made no excuses and didn't become outwardly...
WACO, Texas Moments after Baylor and Texas ran onto the frozen field at Floyd Casey Stadium on Saturday, the public address announcer dramatically provided the final score from Stillwater: Oklahoma 33, Oklahoma State 24. Players on both sidelines began to sway and dance because their game had just become a winner-take-all affair in the Big 12. I guess you could say Bedlam moved...
It got so bad, so quickly, that Mack Brown turned to a guy watching tape on his couch in California. He had little choice, of course. After BYU embarrassed Texas in Week 2, beating the Longhorns 40-21 and rushing for 550 yards, the roar of regents and 'Horns supporters climbed to such audible levels that Brown had to do something . So out went defensive coordinator Manny Diaz...
DALLAS -- Mack Brown ended his day in Dallas with a grand total of zero one-finger salutes to anyone wearing crimson, burnt orange or a media badge. The 36-20 beatdown his Longhorns delivered Oklahoma in Saturday's Red River Rivalry is vindication enough. Soaked head to toe from a celebratory ice water shower on the sidelines, Brown told a TV camera on the field all the win...
Mack Brown is confident about what his team can do this coming season and he should be. With a veteran laden squad returning the Longhorns should be able to build off of last season's 9-4 finish and compete for the Big 12 crown once again. "…I do think that we are headed back in the right direction and that we have another run in us, and that I want them (the...
Running back is quickly becoming a stable of talent for the Texas Longhorns, and the numbers just increased by one with the commit of Fort Worth All Saints junior Daniel Gresham, who recently gave his commitment for the class of 2014. Gresham joins a backfield that includes sophomores Malcolm Brown and Joe Bergeron, both of whom topped 100 yards rushing in Saturday's 37-17...
Still trying to shape his program back into a national championship contender, Texas coach Mack Brown signed another highly rated recruiting class Wednesday, a group anchored by a record-setting running back and notable for its last-minute additions. Texas annually signs classes rated among the best in the country, but the Longhorns are just 13-12 over the last two seasons since...
MORE STORIES >>
College Football News

Delivered to your inbox

You'll also receive Yardbarker's daily Top 10, featuring the best sports stories from around the web. Customize your newsletter to get articles on your favorite sports and teams. And the best part? It's free!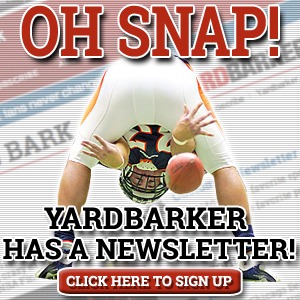 THE COLLEGE FOOTBALL HOT 10