It's been nearly two years since the college football world learned that Manti Te'o, then a Notre Dame linebacker, had been catfished by a man pretending to be a woman named Lennay Kekua. In that time frame, Florida State, led by quarterback Jameis Winston, has yet to lose a college football contest. One FSU fraternity, ATO, put two and two together to create a lovely sign ahead...
GIRL TALK
Ronaiah Tuiasosopo spoke with Dr. Phil McGraw for his first interview since being exposed as the man behind the Manti Te'o girlfriend hoax. One half of Tuiasosopo's interview aired on "Dr. Phil" Thursday, and the other half will air Friday. Dr. Phil's show left a big cliffhanger Thursday when they teased a preview of Tuiasosopo attempting to reenact the voice of "Lennay...
WEIRD, WILD STUFF
Dr. Phil McGraw, teasing his interview with the mastermind of the Manti Te'o hoax, says Ronaiah Tuiasosopo fell "romantically in love" with the Notre Dame linebacker.
Take a bow PETA!  You've won the prize for Most Ridiculous Way To Exploit The Manti Te'o Hoax.  Not only have you found a way to include the Notre Dame star linebacker in your underdog campaign to raise awareness about the evils of chicken wings, you've included a sexual innuendo joke as the icing on this delectable advertising sundae!   The advocacy group plans...
CRAZY STUFF
Katie Couric's show released voicemails that Manti Te'o shared with her that were left on his phone by Kekua. Ronaiah Tuiasosopo's attorney says the voice is his client's.
NO TIME WASTED
GIRL OF MY DREAMS
The most bizarre sports story to come along in some time just keeps getting weirder and weirder and weirder...
SOME SPLAININ' TO DO
The dates mentioned in Notre Dame athletic director Jack Swarbrick's press conference about Manti Te'o's girlfriend just don't seem to add up.
Of course we were going hunting for Manti Te'o memes. First were the Manny Pacquiao KO memes, now these, the definitive 41 best Manti Te'o fake/dead girlfriend memes that the internet has to offer. [Images via Topsy and Tiger Droppings] Filed under: Football, NFL
BLACKLISTED
Manti Te'o's father is upset with a Hawaii newspaper over the photo and headline they used following Notre Dame's loss to Alabama.
MORE STORIES >>
College Football News

Delivered to your inbox

You'll also receive Yardbarker's daily Top 10, featuring the best sports stories from around the web. Customize your newsletter to get articles on your favorite sports and teams. And the best part? It's free!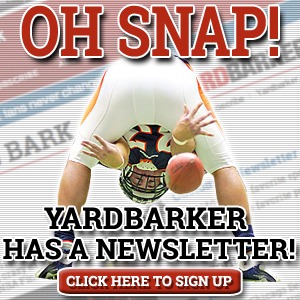 THE COLLEGE FOOTBALL HOT 10