The Patriots made one final tweak to their roster on Saturday, signing rookie defensive tackle Marcus Forston from the practice squad to fill the open roster slot vacated by the injury to Rob Gronkowski last weekend. Signed out the University of Miami as an undrafted free agent in May, Forston saw action in three preseason games and one regular season contest, playing eight snaps...
Marcus Forston, Miami (Fla.), NFL Draft - CBSSports.com - NFLDraftScout.com: The Pats haven't...
The New England Patriots added a fourth undrafted free agent to their roster late Saturday after the draft was completed when they signed University of Miami DT Marcus Forston. Forston, who at one time was projected as a top pick amongst the defensive linemen available in the draft, has seen his stock dive over the last two seasons.  Coming out of high school he was considered...
This is the third article in the series of features evaluating the Rivals.com five-star recruits over the last five years... The college football recruiting recruiting class of 2008 may go down as one of the best in recent time. Unless of course U are a Miami Hurricanes fan. The University of Miami was alleged to have the #1 recruiting class in 2008 but in the end it was simply...
The Miami Hurricanes lost their leading receiver this week, as Tommy Streeter signed with an agent and declared for the NFL Draft. DT and former high school teammate Marcus Forston will leave with him, having declared a day later. UM's 2012 offense takes a major hit with Streeter's announcement. He caught 46 passes for 811 yards and 8 touchdowns. His 17.6 per-yard average...
They came in together from Miami Northwestern High as part of the nation's No. 1 recruiting class in 2008 —- and now they will be going out together too.
Two juniors on the Miami Hurricanes have decided to forego their remaining NCAA eligibility and enter the NFL draft. Via our friends at CFT, receiver Tommy Streeter and defensive tackle Marcus Forston both will turn pro. Miami is not playing in a bowl this season, so both of their college careers are over. The Miami…
For those Miami fans holding out some sliver of hope that Tommy Streeter and Marcus Forston would return for another season, you can let go of said sliver. According to the Miami Herald, and as expected, Streeter and Forston have decided to forego their final season of eligibility and make themselves available for the 2012 NFL…
MORE STORIES >>
College Football News

Delivered to your inbox

You'll also receive Yardbarker's daily Top 10, featuring the best sports stories from around the web. Customize your newsletter to get articles on your favorite sports and teams. And the best part? It's free!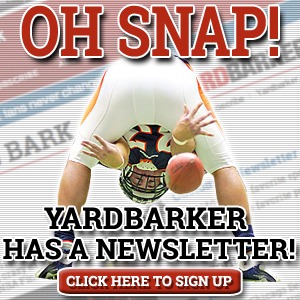 THE COLLEGE FOOTBALL HOT 10