As I'm sure you've heard by now, former South Carolina Gamecocks star running back Marcus Lattimore, who was drafted by the San Francisco 49ers but has spent his year-plus career..... The post Brian Bosworth, Marcus Lattimore And Appreciating Collegiate Greatness appeared first on The Sports Fan Journal.
Sadly, football fans will not have the chance to see former South Carolina standout running back Marcus Lattimore play in the NFL. The former Gamecock star officially announced his retirement in a statement today, calling the gruesome knee injury he suffered in 2012 "insurmountable." In the statement, Lattimore outlined his plans for the future, which include returning to South...
According to a report that came out on Monday, former South Carolina running back Marcus Lattimore is expected to retire. Lattimore suffered a knee injury during his junior year as a Gamecock, and due to various issues with his knee, he hasn't played in a game since 2012. Today, Gamecocks coach Steve Spurrier said that if Lattimore wanted to come back and work at the school in...
Marcus Lattimore is pondering walking away from football after he was unable to get his knee to respond. If Lattimore ultimately does decide playing football isn't for him anymore, he can always return to the place where he gave up so much. South Carolina coach Steve Spurrier said Tuesday that Lattimore, a former Gamecocks star whose gutty returns from two serious knee injuries...
Monday morning, ESPN NFL Insider Adam Caplan tweeted a bit of news that would be sure to upset any college football fan. San Francisco 49ers running back Marcus Lattimore, who last took the field for the South Carolina Gamecocks in 2012, is reportedly retiring due to ongoing knee troubles. Lattimore suffered two major knee injuries in college and is rumored to have torn his MCL last...
Marcus Lattimore isn't healthy enough to participate in the pre-draft process, but the star South Carolina running back's chance to impress NFL scouts is coming soon enough. Lattimore said Tuesday night that he is planning to conduct a workout in early April to show the progress made from a major knee injury suffered in late October. "I'm on pace to do that,&quot...
Marcus Lattimore's season-ending knee injury suffered against Tennessee on Saturday may not have been quite as devastating as initially believed. South Carolina issued an official release regarding the details of the injury. Here's their statement: University of South Carolina junior running back Marcus Lattimore suffered a significant impact to the front of his right knee during...
Sometimes football hits are so bad you want to turn away, but just can't. On Saturday afternoon, South Carolina running back Marcus Lattimore suffered one of those injuries when his knee bent the wrong way and the bottom of his leg seemed to hang limp from the rest of his body. Lattimore was considered a top NFL prospect going into this season, but after this injury...
Marcus Lattimore was injured in Saturday's win against Tennessee. The South Carolina running back was running to the left side of the field when he was hit by Tennessee defensive back Eric Gordon. Lattimore's leg then collapsed. "It looked severe on the field," South Carolina coach Steve Spurrier said during his halftime interview with ESPN. "Hopefully it's not as severe...
MORE STORIES >>
College Football News

Delivered to your inbox

You'll also receive Yardbarker's daily Top 10, featuring the best sports stories from around the web. Customize your newsletter to get articles on your favorite sports and teams. And the best part? It's free!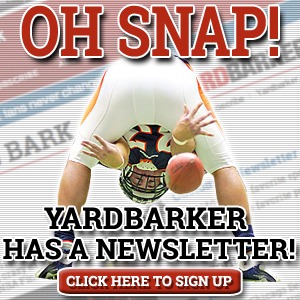 THE COLLEGE FOOTBALL HOT 10