The Georgia football team is helping save the environment.  Today, the Bulldogs will receive their playbooks. Instead of getting a massive binder filled with sheets of paper, Georgia's players have their own personal iPads which include a digital form of the playbook. It's something Mark Richt's program has been doing on an annual basis.  Playing for Georgia is beneficial...
Georgia's Mark Richt won the internet this evening after tweeting out this message for Josh Murray, brother of former Bulldogs quarterback Aaron Murray, who won The Bachelorette Andi. Sic em! Great day to be a Dawg's wife!! — Mark Richt (@MarkRicht) July 29, 2014 Josh Murray played two years under Richt at Georgia where he played […] The post Mark Richt Congratulates Josh...
You know what? We're not actually being sarcastic when we say "Right Richt", because any guy who strangles or strikes his girlfriend or any female (as it seems sophomore D-Lineman Jonathan Taylor did in the late hours of Monday night) should be booted from a football team and if we're honest, should not be allowed to transfer, unless it's to jail. Well, after...
Mark Richt is used to criticism as head coach of the University of Georgia. Every year people place him on the hot-seat for either not beating South Carolina, or not beating Auburn, or losing a game they should win, or not beating a team by enough, and 2015 won't be any different - although after beating Clemson and LSU, maybe the seat's a LITTLE cooler. Richt's also...
Mark Richt is not sold on Georgia's SEC preseason prediction, and he let people at Media Days know about it.
The 2014 SEC Media Poll was released this morning at the conference's media days in Hoover, Ala. Alabama was picked to win the SEC, with South Carolina selected to win the east division.  Georgia was picked to finish second in the SEC East.  Does coach Mark Richt agree with that? Mark Richt asked if being picked in second place sounds about right: "Uh, no. I'd have us first...
I absolutely love SEC Media Days. While it can turn into a circus pretty quickly, it also produces some pretty humorous bits. Nothing demonstrates this point better than the hashtag #ControversialThingsRichtMightSay. Here's a zinger that gets several of Georgia's foes: I like the color orange #ControversialThingsRichtMightSay — Wright Blan (@SWRTWrightBlan) July 17, 2014 Here's...
The Georgia Bulldogs are looking to bounce back strong after a, somewhat, disappointing 2013 season. A season that was filled to the brim with injuries (so, so, so many), brilliant comebacks, heartbreaking losses, and plenty of blame to go around. Enter…Read more →
Lets be real here folks. When it comes to a kid making a call on where he is going to play college ball he has three things in mind: (1) babes (2) am I going to play or ride the pine and (3) being groomed for the NFL. For Mom and Dad it is a little different. They want to feel like the coaching staff--or at least the head coach--cares about their son and doesn't just see him...
Mark Richt, Georgia football's head coach, is officially a grandfather. As you'd imagine, that means the world just gained another Dawgs fan. Jadyn Elise Richt, daughter to Richt's son, Jon, and his daughter-in-law, Anna, was born Wednesday. By Thursday morning, she was already donning UGA gear. Richt himself tweeted out an awesome photo on Twitter. Already a Georgia Girl...
MORE STORIES >>
College Football News

Delivered to your inbox

You'll also receive Yardbarker's daily Top 10, featuring the best sports stories from around the web. Customize your newsletter to get articles on your favorite sports and teams. And the best part? It's free!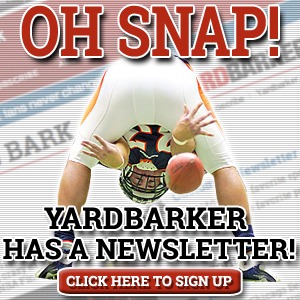 THE COLLEGE FOOTBALL HOT 10