CHAPEL HILL, N.C. -- The biggest question going into No. 23 North Carolina's season-opener against Liberty, seemingly, was what the final margin of victory would be for the Tar Heels. After UNC got off to a quick 7-0 start, that still seemed to be the case. But Liberty took the lead twice -- 15-14 in the second, and then 22-21 in the third -- before the Tar Heels could pull away...
CHAPEL HILL, N.C. (AP) Marquise Williams accounted for four touchdowns while Jeff Schoettmer returned an interception for a score during North Carolina's game-turning flurry, helping the No. 23 Tar Heels beat Liberty 56-29 on Saturday night. Schoettmer's 19-yard return came during a run of four touchdowns in fewer than 4 minutes, which jolted the Tar Heels out of a sluggish...
It wasn't supposed to be this way. Four-star quarterback Mitch Trubisky committed to North Carolina as a highly-touted recruit out of Ohio in 2012. At that time, Bryn Renner was in his first full season as UNC's starting quarterback and would be graduated after 2013. Trubisky, in theory, would slide right in to the starting job after taking a redshirt season. But then Marquise...
GREENSBORO, N.C. -- The questions about UNC quarterback Marquise Williams' fundamentals have swirled since he took his first snap, and they'll continue to -- but his throwing motion has the endorsement of one person that carries a good bit of weight. "That's Peyton Manning. He's the greatest in the game," Williams said. "When he gave me that talk, I...
With spring practice now behind them, North Carolina head coach Larry Fedora spoke with reporters Wednesday during an ACC teleconference. Although Fedora spoke about many topics during his time on the call, there was one thing in particular that stood out – it seems the quarterback controversy is here to stay. Fedora remained non-committal on deciding between redshirt junior...
The University of North Carolina football team has begun spring practice in anticipation for their 2014 regular season. Despite the fact that the Tar Heels will not play their first game until August 29th against Liberty, the practice and reps the players take now will be vital once the season begins. Spring practice will run for the next few weeks, and will end with the annual Blue...
UNC quarterback Marquise Williams (12) scores a touchdown on October 27, 2013 against Boston College at Kenan Stadium. (Photo credit: Robert Willet/News & Observer) The Tar Heels are coming off of a 7-6 season that ended with a 39-17 bowl win over the Cincinnati Bearcats, which was the first of hopefully many bowl wins under the tenure of second year head coach Larry Fedora....
Marquise Williams threw five first-half touchdown passes and T.J. Logan scored four touchdowns to help North Carolina to a record-setting 80-20 victory over Old Dominion on Saturday. The Tar Heels set all-time records for points and touchdowns by the midpoint of the third quarter, and Williams set the single-game record for total yards on the Tar Heels' fourth snap of the second...
The North Carolina Tar Heels (4-5, 3-3) continued their impressive rally from a 1-5 start to the 2013 season for homecoming on Saturday as they rolled over the Virginia Cavaliers (2-8, 0-6) to the tune of 45-14. The Tar Heels had been thriving as of late with a two-quarterback system, but this was their first game since starting QB Bryn Renner underwent season-ending surgery on his...
After North Carolina defeated NC State on Saturday 27-19, I discussed how having two quarterbacks was better than one for the 2013 Tar Heels. This was due to the fact that fifth year senior Bryn Renner and redshirt sophomore Marquise Williams complemented each other perfectly while running the offense. Sophomore quarterback Marquise Williams will start the last four games of the...
MORE STORIES >>
College Football News

Delivered to your inbox

You'll also receive Yardbarker's daily Top 10, featuring the best sports stories from around the web. Customize your newsletter to get articles on your favorite sports and teams. And the best part? It's free!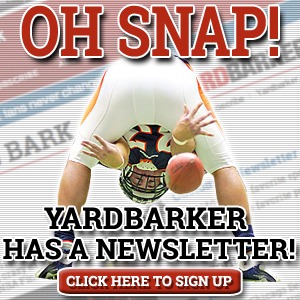 THE COLLEGE FOOTBALL HOT 10