Here's the 2018 NFL Draft profile for quarterback Mason Rudolph out of Oklahoma State breaking down his strengths, weaknesses, video highlights, and a draft day prediction. When it comes to quarterback Mason Rudolph out of Oklahoma State, he's a natural born playmaker. He does a good...
Oklahoma State quarterback Mason Rudolph could be a Round 2 pick. (AP Photo/Sue Ogrocki, File) Mobile, AL. — Barring a bold trade, the Miami Dolphins won't have a shot at quarterbacks Sam Darnold or Josh Rosen in the first round of the NFL Draft on April 26. And if the Dolphins use the 11th overall pick on a position of greater need, they would pass on quarterbacks Josh Allen or...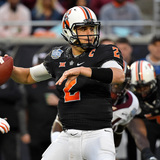 Mason Rudolph will not be playing in Saturday's Senior Bowl due to a foot sprain, according to a report.The former Oklahoma State quarterback plans to be in Mobile, Ala. for measurements and interviews, but NFL Media's Ian Rapoport says he will not play in the game because of his foot. Rudolph, who will go down as the best QB in Oklahoma State history, is ranked as the No. 7 QB prospect...
Wyoming product Josh Allen, a potential top pick in the upcoming 2018 NFL Draft, is expected to accept an invite to the Senior Bowl, ESPN's Chris Mortensen reported Friday. One of the premier pre-draft events, the Senior Bowl is a week-long event in which practices are just as important as the actual game itself. Allen will be competing against some of the top upperclassmen who are...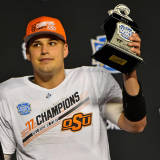 Mason Rudolph sent a nice farewell note on social media after his college football career came to a close following Oklahoma State's win over Virginia Tech on Thursday.The Cowboys' senior quarterback thanked the fans for "an unforgettable four years" and said he was honored to represent the program. Rudolph went 21 of 32 for 352 yards and two touchdowns in the 30-21 win over the...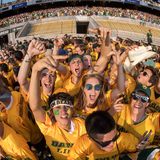 It's homecoming weekend at Oklahoma State, which will host Baylor Saturday. Ahead of the Big 12 rivalry game, the school put orange dye into the Edmon Low Library fountain to help brighten up the festivities. It's an annual tradition for homecoming week. However, as a prank, some Baylor fans sneaked onto campus Thursday night and dumped green dye into the fountain, per Kyle Porter...
Oklahoma State quarterback Mason Rudolph had his pocket picked Saturday on the road against Texas Tech when Damarcus Fields went 95 yards to the house on a pick-six. This really wasn't Rudolph's best effort. He threw late to the outside, which is a cardinal sin for quarterbacks. This time, Fields made him pay. The 95-yard touchdown gave the Red Raiders a 14-7 lead over the Cowboys...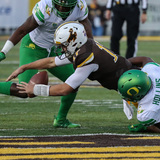 Week 3 of the college football season didn't feature too many surprises. Sure, we had Nebraska lose to a MAC team, but for the most part, teams that were expected to win took care of business. Still, that doesn't mean some teams, units, coaches, or players didn't disappoint us.Here's a look at the 15 biggest disappointments from college football Week 3.Nebraska CornhuskersPerhaps...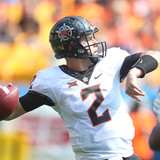 Oklahoma State quarterback Mason Rudolph deserves more credit for what he does on a regular basis. As the Cowboys played against Pitt on Saturday in a game that was nationally televised on ESPN, those watching were treated to the brilliant play of the senior quarterback.Before the first quarter was up, Rudolph already threw two touchdowns and the Cowboys led by 21 points. His second...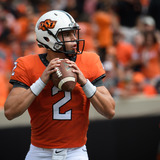 Oklahoma State quarterback Mason Rudolph has quite an arm and can hit his receivers all over the field. He can even complete passes to guys on jet skis.Check out this cool video in which Rudolph starred and teamed with his brother, Logan, to complete an awesome jet ski trick pass: Rudolph will be a Heisman Trophy candidate this year for Oklahoma State. Logan, who plays linebacker...
MORE STORIES >>
College Football News

Delivered to your inbox

You'll also receive Yardbarker's daily Top 10, featuring the best sports stories from around the web. Customize your newsletter to get articles on your favorite sports and teams. And the best part? It's free!
THE COLLEGE FOOTBALL HOT 10