The Brigham Young Cougars offensive line probably took more criticism than any other since 2011 ended. How they react to the criticism is more than just an interesting storyline for the 2012 season, it can be the difference between a good and a great season. Matt Reynolds and, particularly, Terrence Brown caused controversy when they suddenly became very conscientious about their...
The Brigham Young Cougars have to replace some big bodies from the 2011 football team. Foremost among the big bodies are starters Hebron Fangupo, Terrence Brown, and Matt Reynolds. Did you know that Fangupo, Brown, and Reynolds are the 19th, 38th, and 73rd, respectively, biggest BYU football players ever?The official BYU all-time roster lists Fangupo at 331 pounds (eight pounds more...
Former Brigham Young Cougars Hebron Fangupo and Matt Reynolds were in Indianapolis, Indiana as the NFL held its annual scouting combine from February 22-28. The combine is a great opportunity for pro prospects to be evaluated by the decision makers for all 32 teams. So, how did they do? Hebron Fangupo, DT, 6'1", 323 lbs.40-yard dash: 5.18 seconds20-yard shuttle: 4.62 seconds3...
From the Brigham Young Cougars' graduating seniors, offensive lineman Matt Reynolds is considered the one who will be missed the most in 2012. He received 42% of the votes. Defensive end Hebron "Loni" Fangupo was second with 22% and Jordan Pendleton was was a close third with 20%. Fourth and fifth were running backs J.J. Di Luigi at 7% and Brian Kariya with 6%. Free...
BYU football: Cougars have prepared for early kickoff By Jay Drew The Salt Lake Tribune Published Dec 29, 2011 04:40PM MDT Dallas • By his own admission, BYU All-American offensive tackle Matt Reynolds hasn't always been a morning person. But times have changed. Because kickoff time for Friday's Armed Forces Bowl is 11 a.m. locally (10 a.m. MT), the Cougars have been...
BYU football: Matt Reynolds has no regrets about returning By Jay Drew The Salt Lake Tribune Published Dec 26, 2011 06:27PM MDT Fort Worth, Texas • ESPN draft analyst Todd McShay had him going as the 20th overall pick to the Philadelphia Eagles, while College Football News listed him as the No. 1 offensive tackle in the 2011 draft. Sports Illustrated's draft experts said...
MORE STORIES >>
College Football News

Delivered to your inbox

You'll also receive Yardbarker's daily Top 10, featuring the best sports stories from around the web. Customize your newsletter to get articles on your favorite sports and teams. And the best part? It's free!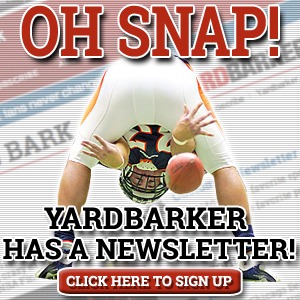 THE COLLEGE FOOTBALL HOT 10