CHICAGO -- Ameer Abdullah placed his white suit jacket on the back of a chair and sat down to begin a two-hour interview session Tuesday morning during the Big Ten's annual media days gathering. The Nebraska running back, an engaging and eloquent speaker, was prepared to face a list of questions -- about team expectations, unionizing in college football and even the speech he...
CHICAGO -- Questions abound at this stage of the college football season, and Wisconsin coach Gary Andersen is no different than many fans in his desire to find some answers about his team. Who will play quarterback? Who will start opposite Michael Caputo at safety? Who will emerge as a third running back behind Melvin Gordon and Corey Clement to provide his stars some relief? But...
Wisconsin got some love from the media late last week, being named the winner of the Big Ten West division in an unofficial poll put on by The Plain Dealer. On Monday, before Big Ten media days, the conference named two Badgers to its preseason Players to Watch List. Running back Melvin Gordon and right tackle Rob Havenstein were given that honor. They weren't the only pair of...
It is hard to get excited about a Wisconsin Badgers football program this season when the program returns only eight starters from last year's team. But when one of the returning players is Melvin Gordon, a running back who should not only be a Heisman Trophy candidate and a potential first round draft pick, there is reason for hope on Wisconsin's campus.Even with the losses...
  Wisconsin Badgers beat writer Jesse Temple will be analyzing the 25 most important players to the Badgers' success in the 2014 season. Check back each weekday to see the latest player on the list. You can find every report here. Note: This is not a list of the team's 25 best players or a series about past success, but rather which of them means the most to how Wisconsin...
Melvin Gordon RB Wisconsin #25 Ht: 6'1″ Wt: 207 All of our scouting reports are available to our premium members. If you would like access to our 2015 scouting reports, click here to sign up. Overview: Gordon is a home run threat, but isn't the complete package at this stage of his career. He almost exclusively tries to bounce his runs to the outside—which he does...
MADISON, Wis. -- Wisconsin running back Melvin Gordon very well may be a Heisman Trophy candidate in 2014. But when asked this week about his individual goals for the season, Gordon instead raised a few eyebrows with his declaration of team goals. "I didn't come back to win this or that, to win the Heisman," Gordon said Wednesday on a teleconference previewing Big Ten...
The last time the Wisconsin Badgers were victorious in Pasadena, California was in the 2000 Rose Bowl game. Barry Alvarez was head coach of the Wisconsin football team at the time when the Badgers (9-2, 7-1 Big Ten) prevailed over Stanford (8-3) 17-9. Through the first 7 games of the 1999-2000 Wisconsin football season, the Badgers found themselves (5-2, 3-1 Big Ten) with a dominant...
Joel Stave turned heads in the Ohio State game. Can he keep it up? Over the past two decades, the Wisconsin Badgers have been known for having excellent running backs. From Ron Dayne to Montee Ball, Wisconsin relied on its ground attack to do damage. Combined with a formidable offensive line, the Badgers had no problem moving the ball on offense despite a tendency to have a mediocre...
MADISON, Wis. The competitor inside Melvin Gordon truly wanted to leave spring practices as Wisconsin's starting running back. The realist in Gordon understood that a sprained ankle, coupled with an excellent spring from teammate James White, meant attaining such a goal was unlikely. Still, Gordon couldn't help but feel as though he left his best performances somewhere in...
MORE STORIES >>
College Football News

Delivered to your inbox

You'll also receive Yardbarker's daily Top 10, featuring the best sports stories from around the web. Customize your newsletter to get articles on your favorite sports and teams. And the best part? It's free!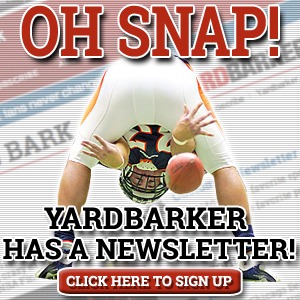 THE COLLEGE FOOTBALL HOT 10