James Michael McAdoo scored 18 points, Marcus Paige added 16 and North Carolina dominated inside after a slow start to defeat Notre Dame 73-62 Saturday for the fifth straight victory for the Tar Heels. The Tar Heels trailed by nine points twice in the first half, but their speed and athleticism wore the Fighting Irish down. North Carolina had a 44-24 advantage in the paint and a...
Send to Kindle The North Carolina Tar Heels played with a sense of urgency and were able to keep the Clemson Tigers winless in Chapel Hill, looking like the team  many thought they could be at the beginning of the season. The Heels are now 12-7 overall and 2-4 in ACC. James Michael McAdoo was the difference-maker as he was playing with a different level of aggression and set the...
Every March, there are a handful of NCAA tournament resumes that make you scratch your head. North Carolina has only played seven games so far this year, but it's already clear that the Tar Heels have one of the most confusing sets of results in the country. They've lost to Belmont and UAB, yet they've beaten then-No. 3 Louisville and now, No. 1 Michigan State. The Spartans...
James Michael McAdoo wants to get a fresh start to his junior season at North Carolina. And so the Tar Heels second-leading scorer from a year ago decided to start with a fresh haircut, much closer to his head than his previous somewhat puffy-haired look. It was just getting out of control, McAdoo said with a grin. Considering the up-and-down journey McAdoo has been on since...
CHAPEL HILL, N.C. -- North Carolina got a boost inside with the return of James Michael McAdoo while taking a hit on the perimeter with Reggie Bullock's decision to enter the NBA draft.The two players announced their plans Tuesday, with McAdoo announcing plans to return for his junior season hours after Bullock announced he would skip his senior season.In a statement from the...
GREENSBORO, NC -- James Michael McAdoo didn't take too kindly to the description of Sunday's task for North Carolina as "monumental." The third-seeded Tar Heels will battle top-seed Miami in the championship game of the 60th ACC Tournament, and the challenge facing UNC is at least significant, if not enormous. After all, Miami won the teams' meeting in Chapel...
CHAPEL HILL, NC --- James Michael McAdoo made an early blunder in North Carolina's 72-60 overtime victory over Virginia Tech on Saturday that infuriated coach Roy Williams so much that he yanked the sophomore forward the next time the clock stopped. McAdoo got the ball near the right elbow and dribbled diagonally across the lane into triple coverage. Hokies' guard Marquis...
James Michael McAdoo is still learning how to be North Carolina's go-to guy, from facing high expectations as an NBA prospect to overcoming defenses aiming to frustrate him. At times, he's been an athletic big man who beats defenders to the rim, flies into the paint to crash the boards and reliably knocks down a face-up jumper. At others, he looked tentative and content...
LAHAINA, Hawaii-- James Michael McAdoo scored 18 points to lead five North Carolina players in double figures and the ninth-ranked Tar Heels routed Division II Chaminade 112-70 on Wednesday night in the Maui Invitational. It was the first time this season that the Tar Heels (5-1) have topped the century mark. They put up 62 points in the first half after being held to 18 points...
North Carolina coach Roy Williams says forward James Michael McAdoo is doubtful for the third-ranked Tar Heels' ACC opener Saturday against Boston College. Williams says McAdoo did not practice Friday with a sprained left ankle and says it will be a game-time decision. The 6-foot-9 freshman had a season-high nine rebounds in his last game against Monmouth. He averages 6.4 points...
MORE STORIES >>
College Football News

Delivered to your inbox

You'll also receive Yardbarker's daily Top 10, featuring the best sports stories from around the web. Customize your newsletter to get articles on your favorite sports and teams. And the best part? It's free!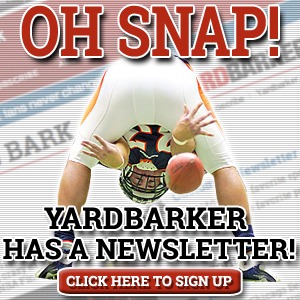 THE COLLEGE FOOTBALL HOT 10