In his first game at Arizona State in 2011, quarterback Mike Bercovici had to step in for cramping starter Brock Osweiler late in the second half. In every game since, he's been waiting, prepared to take over at a moment's notice. Bercovici again took the reins last week when starter Taylor Kelly went down with a foot injury, and next week against No. 12 UCLA, Bercovici...
TEMPE, Ariz. -- Arizona State offensive coordinator Mike Norvell said last season he believed the Sun Devils had the best quarterback depth in the nation. He believes that even more a year later. "I think we have three guys that can definitely win football games for us," Norvell said. "And they've all improved. They're getting better each and every day.&quot...
There's no question that quarterback Mike Bercovici has been one of Arizona State's spring practice's standouts. Arguably the purest thrower of the unit, the sophomore who redshirted last year, has been pushing incumbent Taylor Kelly for the starting spot on this 2013 Sun Devil squad.
Arizona State Head Coach Todd Graham said that no starter can rest on his laurels and today's performance by reserve players such as Mike Bercovici and Deantre Lewis only enhanced that point.
TEMPE, Ariz. -- It probably surprised the few fans still remaining for the final minutes of Arizona State's season-opening victory over NAU on Thursday night to see junior quarterback Ryan Woods trot onto the field. Woods transferred to ASU last season and doesn't even have an official team bio, or a spot on the depth chart for that matter. Fans were probably expecting sophomore...
Arizona State football coach Todd Graham said after Saturdays practice that two quarterbacks will be taking the majority of the snaps starting Monday. If youre reading the tea leaves, recent events suggest that those two players will be Taylor Kelly and Michael Eubank, with Mike Bercovici falling from favorite to outsider, although that's far from certain with most of fall camp...
(Unquiet on the Western Front is SWRT's look at the Pac-12, WAC, Mountain West, and other West Coast/Rocky Mountain schools extravaganza.) Culture Shock. Brad Denny interviews Arizona State quarterback Mike Bercovici about the changes in the ASU culture that have occurred since the hiring of first-year Sun Devil head football coach...
How tight of a ship is first-year head coach Todd Graham running out at his new Arizona State stomping grounds? Pretty darn tight it seems. Not only have Wildcats players been forced to ditch their "civilian" gym clothes for  mandatory team workout gear comprising "black shorts, white socks and gray T-shirts" in the weight room Graham has some pretty strict rules...
MORE STORIES >>
College Football News

Delivered to your inbox

You'll also receive Yardbarker's daily Top 10, featuring the best sports stories from around the web. Customize your newsletter to get articles on your favorite sports and teams. And the best part? It's free!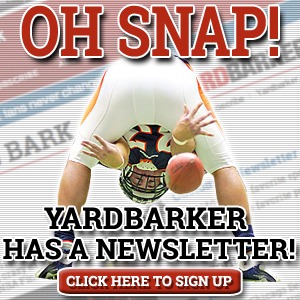 THE COLLEGE FOOTBALL HOT 10