Dion Waiters is entering his sophomore season with great expectations. Many national pundits (me included) expect Cleveland to reach the playoffs for the first time since LeBron's departure but in order to accomplish that Cleveland can't finish 27th in defense as they did last season. That's where defensive guru Mike Brown comes in to play. However, you can't expect things...
Golden State Warriors (3-2) vs. Los Angeles Lakers (1-4) 10:30 p.m. Do the Lakers even have a plan at this point? Today, the Lakers fired Mike Brown after the team's disappointing start to the season. Is the 1-4 start really Brown's fault? No, probably not. The Lakers got the stars to headline the marquee but did not have the depth to make it stick. Not to mention...
 Courtesy of HBO"How you expect to run with the wolves come night, when you spend all day sparring with the puppies?" This wise inquiry made by the infamous Omar Little of HBO's the Wire should be aimed at the current Lakers squad. If the Lakers are struggling against scrappy but star-less teams such as the Utah Jazz, how would they expect to fare against the NBA's elite...
EL SEGUNDO, CA "Last year," Lakers' coach Mike Brown said to the gathered media, "our goal was to win a championship. We fell short, and that's why we were disappointed." So while General Manager Mitch Kupchak retooled the roster, adding Steve Nash and Dwight Howard to a starting lineup that already boasted multiple-time champions Kobe Bryant and Pau...
The best word to describe this lockout-shortened, compressed, mess of a season is scrum. This season, which has careened from unpredictable low points to inconsistent quality has been appropriately bookended by a capitalist's embarrassment (the David Stern veto) to a union leader's shady dealings (seriously, Billy Hunter?) Teams have scratched and clawed their way to parity in...
Lakers Coach Mike Brown acknowledged Tuesday having conversations with General Manager Mitch Kupchak about roster changes, including possibly acquiring free-agent guard Gilbert Arenas. "I asked if he had any thoughts on our games in the past week," Brown said of his conversations with Kupchak. "He told me what he thought about our games. He told me what's the...
EL SEGUNDO, CA--The Lakers get a brief respite on their Grammy Awards-mandated Roadtrip from Hell when they say hello and goodbye to STAPLES Center Tuesday night as they host the Charlotte Bobcats. After splitting a pair on the road over the weekendlosing to Milwaukee, then beating MinnesotaMike Brown's bunch will spend most of February away from Los Angeles. Nine of their next...
MORE STORIES >>
College Football News

Delivered to your inbox

You'll also receive Yardbarker's daily Top 10, featuring the best sports stories from around the web. Customize your newsletter to get articles on your favorite sports and teams. And the best part? It's free!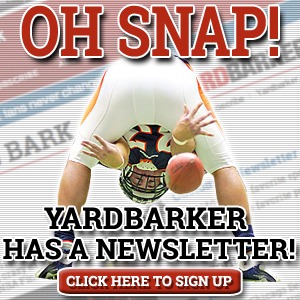 THE COLLEGE FOOTBALL HOT 10