Cavaliers coach Mike Brown was released on Monday after just one season on the bench, but how did we get here? -- May 24, 2010 Mike Brown was fired by the Cavaliers after five seasons as head coach. -- July 2, 2010 Byron Scott was named head coach of the Cavs. -- July 8, 2010 LeBron James announces his intention to leave the Cavaliers and play for the Miami Heat in a televised event...
Mike Brown was fired for the second time in four years by the Cleveland Cavaliers this afternoon. Marc Spears of Yahoo! Sports appeared to break the Brown news at approximately 3:20 EST.  Ten minutes after that was filed, ESPN's Chris Broussard, who is notorious for his "sources" tweets, sent out these tweets: Hearing Cavs have fired Mike Brown… — Chris Broussard (...
CLEVELAND -- Mike Brown exited the Cavaliers' 102-100 victory over visiting Toronto on Tuesday with his 300th win as Cavs coach. That puts him third on the franchise's all-time list, trailing only Lenny Wilkens (316) and Bill Fitch (304). Brown could move to second by the end of the season, and he will have to if the Cavs are to make the playoffs. The Cavs are 4 1/2 games...
Former NBA sharpshooter and current Phoenix Suns analyst Eddie Johnson doesn't seem to think Mike Brown is the right coach for these Cavaliers. In a video segment entitled, "Enough Said," on the popular basketball website Hoopshype.com, Johnson told web-video host Noah Coslov that Brown isn't getting the job done in the first season of his second stint in Cleveland...
CLEVELAND -- Mike Brown is not pleased with the Cavaliers and you can't blame him. The Cavs stunk it up the past two games, and we're only being kind enough to use the word "stunk" because it's Christmas. "Our urgency the last two games has been non-existent," Brown said after Monday's 115-92 embarrassment vs. the Detroit Pistons at The Q. &quot...
Preseason games can sometimes amount to extended practices. The only difference is coaches cannot stop play to make corrections, you do not control both offense and defense on each play and there are those fans in the building. They are definitely very valuable. Ah, but those pesky fans get in the way and make things allt he more interesting. When Mike Brown was talking to...
If Cleveland Cavaliers' head coach Mike Brown was also serving as general manager, it appears that UNLV forward Anthony Bennett would be his selection with the first-overall pick in the impending 2013 NBA Draft. ESPN's Chad Ford, in a theory-based piece regarding the Cavs and the No. 1 pick, says that Brown is a big fan of the offensively gifted athlete from the Running Rebels...
Mike Brown has an agreement with the Cavaliers to return as head coach.
The Cavaliers and Mike Brown have mutual interest in a possible reunion.
The Los Angeles Lakers have fired head coach Mike Brown after a disappointing 1-4 start to the season, according to multiple reports. This was Brown's second season in LA. The Lakers finished with a 41-25 record last season. Reports started to swirl on Friday morning that if the Lakers didn't perform well during their upcoming six-game homestand, that Brown's job would...
MORE STORIES >>
College Football News

Delivered to your inbox

You'll also receive Yardbarker's daily Top 10, featuring the best sports stories from around the web. Customize your newsletter to get articles on your favorite sports and teams. And the best part? It's free!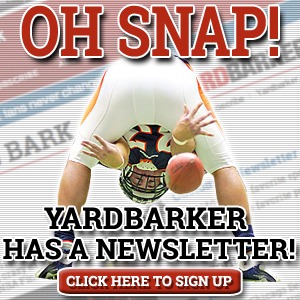 THE COLLEGE FOOTBALL HOT 10