Mike Riley begins every Sunday evening media conference call with an update on the Beavers injuries from the previous game. But 18 minutes into his most recent chat with reporters, Riley went back to the health of his squad "Does that sound like everybody?" Riley asked, making sure he had not forgotten any players that were hurt against Utah Thursday night. "(The...
College football programs always try to highlight and promote what they do best — that's the reason we always see schools fighting over titles such as 'Wide Receiver U' or 'Linebacker U.' Showing success, and particularly dominance at a specific position, can really help out a school's recruiting and standing with young players. Oregon State head coach Mike Riley...
Your browser does not support iframes. Some college coaches hate Twitter, while others have embraced it. Mike Riley of Oregon State is certainly one of the latter. The Beavers head coach has carved out a nice career for himself in…Read more →
Oregon State hasn't updated their uniforms in over 15 years and when they finally decided it was time to do so, they went all out. Coach Mike Riley made sure that fans knew the reason behind all of this rebranding – which is obviously to compete with in-state rival Oregon. They also updated their logo. Here's another shot of the all-black uniforms with the ridiculous facemask...
BEAVER FEVER
It was time for a new beaver in Oregon State…an angry beaver, too. The university decided to release a new version of the school's beaver logo in an attempt to give the school a fresh rebranding: New Oregon State logo: twitter.com/BryanDFischer/… — Bryan Fischer (@BryanDFischer) March 5, 2013 Oddly enough, it appears that this logo was leaked last month on the Instagram...
While so much attention was given to other job openings in college football over the past two weeks, the one surprising vacancy has had very little discussion, and that is the one in Madison. Following the sudden departure of Bret Bielema to Arkansas, the Badgers coaching search has been a quiet one. Of course, they [...]
In-N-Out pulls through again for Beavers How do you inspire a football team on the road? For Beavers coach Mike Riley, he may have just found the secret. Unfortunate for his wallet, it seems to be catching on as a trend for the team. Following the road win at UCLA, Oregon State's coach took his football team out to an after game dinner of In-N-Out. The famous burger chain doesn't...
Oregon State head coach Mike Riley was so pumped after his team escaped in Tuscon with a 38-35 win over Arizona on Saturday that he tweeted the following message:How bout them Beavers!!!!!Huge guts, never ever give up! #BeaverJuice #GoBeavs— Mike Riley (@Coach_Riley) September 30, 2012That Beaver Juice is intense. It's what fuels Oregon State's football team on the field. And...
SWEET TREAT
Oregon State's football team was rewarded with a Southern California fast food delicacy after beating UCLA on the road.
Bud Riley, the father of Oregon State football coach Mike Riley and a former assistant coach at the school, has died. He was 86. The school announced Bud Riley died Saturday after a lengthy illness. He had been living in British Columbia, Canada. Riley was an assistant coach at Oregon State from 1965-72 and returned to the school in 1979. He was the defensive coordinator for Oregon...
MORE STORIES >>
College Football News

Delivered to your inbox

You'll also receive Yardbarker's daily Top 10, featuring the best sports stories from around the web. Customize your newsletter to get articles on your favorite sports and teams. And the best part? It's free!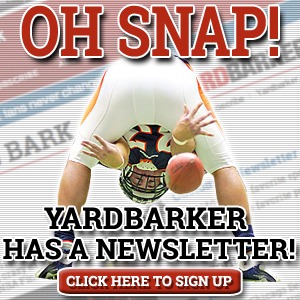 THE COLLEGE FOOTBALL HOT 10