CornerbackLSU5-11 188Draft board overall prospect rank: #6Draft board overall cornerback rank: #1Overall rating: 91 (Top 10 pick)40 time: 4.47Positives• Great athlete• Ball skills (11 interceptions in 2 years)• Deadly with the ball in his hands (274 INT return yards and a touchdown)• Also a deadly return man (568 yards and a touchdown on 22...
Tampa Bay Buccaneers CB Ronde Barber is either playing the team's draft hand or he's helping them play the mind game with other clubs. Yesterday, when asked by J.P. Peterson of WQYK-AM 1010 if the Buccaneers were interested in drafting Morris Claiborne he stated "we probably will." He then went on to comment about his early impressions of the cornerback from LSU. Please...
Morris Claiborne is projected to be drafted in the top 10 by most Mock Drafts including ESPN's Todd Mcshay projecting him to go to the St. Louis Rams with the 6th overall pick. Claiborne took the NFL's Wonderlic test, a test that is given to each player pre draft. The test measures your cognitive ability, behavioral liability
Louisiana State University cornerback Morris Claiborne speaks to reporters during Media Day before his team take on the University of Alabama in the NCAA BCS National Championship, scheduled for January 9, in New Orleans, Louisiana January 6, 2012. REUTERS/Sean Gardner (UNITED STATES – Tags: SPORT FOOTBALL) If a quarterback scores a four on the Wonderlic Test then we've got...
The Stanford-Binet IQ test was designed to measure suitability of a student to fit within the school system and achieve a certain measure of success. It was never supposed to become synonymous with intelligence. But, it did. The Wonderlic test is built on a similar model and, in theory, it gauges a prospect's ability to assess an NFL [...]
LSU's Morris Claiborne has a learning disability. This could be why he scored a four on the Wonderlic test at the NFL Scouting Combine. Feel like a jerk for laughing at his score for the past 24 hours? Good. Because I do too. According to the National Football Post's Greg Gabriel, Claiborne was diagnosed with a learning disability in high school. Every college that recruited...
Morris Claiborne can flat out play ball. He had a stellar career on the field at LSU and is the highest rated CB in the NFL draft. He owned the "athlete" piece of the student-athlete. What about the student side? Well, if his wonderlic score is any indication, he was as unfocused in the classroom [...]
This year's top NFL draft prospect at cornerback–Morris Claiborne–will need to undergo surgery on his left wrist to repair a torn ligament, according to nola.com Claiborne said he suffered the injury during LSU's 9-6 win over Alabama but opted to play the remainder of the season with the injury. The surgery will be conducted on Friday and shouldn't hurt his draft stock...
ATLANTA LSU cornerback Morris Claiborne reminded me very much of a 2-year-old Saturday. This is a compliment, I promise. He flashed all of the best parts of that age, none of the bad ones. Anybody who has studied the behavior patterns of 2-year-olds through the lens of parenthood knows they live in the moment. Anger looks like anger, joy like joy. They are years away from reacting...
Cornerback Morris Claiborne says he and teammates often talk about how they'd like the Tigers' 2011 defense to be remembered as best LSU ever had. That's a tall order considering the strong defenses fielded by LSU national title teams in 2003 and 2007, which each sent a handful of players on to the NFL. Yet this year's fast, play-making defense compares well to...
MORE STORIES >>
College Football News

Delivered to your inbox

You'll also receive Yardbarker's daily Top 10, featuring the best sports stories from around the web. Customize your newsletter to get articles on your favorite sports and teams. And the best part? It's free!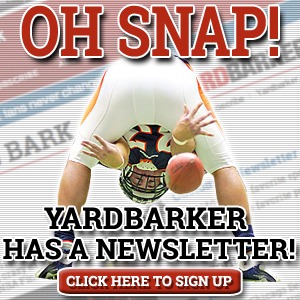 THE COLLEGE FOOTBALL HOT 10