Munchie Legaux will probably start for the Cincinnati Bearcats on Saturday afternoon when the Bearcats travel to Miami to take on the Hurricanes. The odds certainly agree with this notion, as Miami has raced out to a 16.5 point favorite. Gunner Kiel practiced on Wednesday, but it is thought that he isn't in game shape. With Leagux probably going to be the one out of the shotgun...
CINCINNATI -- Munchie Legaux played just six plays Friday night for the University of Cincinnati football team in its season opener against Toledo. Those plays resulted in one first down and 23 yards of offense at the end of the first half of what ended up as a 58-34 win for UC but it was the sweetest first down and 23 yards gained for the senior quarterback. "I thought about...
Munchie Legaux was carted off at Illinois with a season-ending knee injury. Photo: USA Today Sports Cincinnati entered the 2013 season with a bit of optimism. The Bearcats opened the year with a dominating victory at home against Purdue and has been thought by many to be Louisville's biggest threat to an American title run this fall. The two rivals square off in the final week...
Cincinnati quarterback Munchie Legaux was forced out of Saturday's game against Illinois by what appeared to be a serious injury. Legaux was hit by a pair of Illini players as he dropped back to pass midway through the fourth quarter. Information about the injury was not immediately available but it appeared to involve his left leg. Legaux stayed on the turf for several minutes...
Via AP on Fox
Cincinnati quarterback Munchie Legaux suffered what looks like a horrific left leg injury during the Bearcats' 45-17 blowout loss at the hands of Illinois.
Munchie Legaux suffered a very serious knee injury in the 4th quarter of the Bearcats game against Illinois. Munchie had an Illinois defensive tackle run straight in to his lead leg while he threw a pass. The Illinois and Cincinnati trainers immediately took the field. He's been carted off and has to be on his way to the hospital by now. You could see how serious the injury was...
This is pretty much one of the most horrific injuries I've ever seen. Munchie Legaux is the quarterback for Cincinnati Bearcats and had this happen to him. Don't click play if you can't take seeing a bad injury. That is probably a broken leg and/or knee. Playing Illinois has it's hazards. HT The Big Lead
Playing as a ranked team for the first time this season, No. 21 Cincinnati wants to see its junior quarterback make everything look routine. Cincinnati (4-0) has two chances to fix its biggest problems before getting back into Big East play. The Bearcats' most glaring shortcoming: Munchie Legaux is missing the easy throws. He often winds up and puts too much on his passes when...
Forget going back to spring football or even the early days of summer training camp. It goes back to January, to winter workouts and jogs through the snow and the Cincinnati Bearcats officially saying goodbye to a senior class that was as good as just about any the program had ever had. Munchie Legaux knew he was going to have every chance to win the starting quarterback job, and...
In a move that wasn't very surprising, Butch Jones has named Munchie Legaux the Bearcats starting QB for the season opener against Pittsburgh. Tommy G, UC media maven, said it too. The game takes place on September 6 at 8 pm on ESPN. The junior QB was 55-166, 47.4%, for 749 yards, 5 TDs and 4 INTs last season. He also ran for 2 TDs. Legaux showed flashes of his potential. He...
MORE STORIES >>
College Football News

Delivered to your inbox

You'll also receive Yardbarker's daily Top 10, featuring the best sports stories from around the web. Customize your newsletter to get articles on your favorite sports and teams. And the best part? It's free!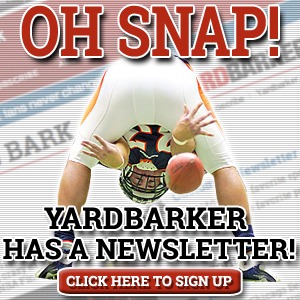 THE COLLEGE FOOTBALL HOT 10