The dark horse Heisman Trophy candidate and the most dangerous dual-threat player in the country, Myles Jack has college football's attention. But the All-American linebacker has said more times than necessary that he won't play running back this season. Strengths: Tackling, blocking, pass rushing and scoring touchdowns. In case you haven't figured it out yet, Jack is...
Myles Jack didn't realize how just how far his name could carry a story. On Monday, UCLA head coach Jim Mora tossed his star linebacker from practice at Cal State San Bernardino after the sophomore had an altercation with offensive lineman Caleb Benenoch. Jack slapped Benenoch in the helmet and taunted him, but the incident looked like a run-of-the-mill, mid-training camp tiff...
UCLA linebacker/running back Myles Jack must have been upset on Monday morning once he learned he was only ranked the 16th-best player in college football by CFB 24/7. Yes, the Bruins' two-way star player could have been ranked higher in the CFB 24/7 poll, but that probably had nothing to do with the incident Monday that led to him getting the boot from training camp practice...
HOLLYWOOD, Calif. -- Myles Jack has an affectionate nickname for Brett Hundley: Mr. Heisman. And Hundley has an affection nickname for Jack: Mr. Heisman. The UCLA quarterback is front and center when it comes to the early Heisman Trophy conversations, but Jack, the sophomore two-way player and one of the most dynamic and exciting players in the country, has heard his name mentioned...
While the Bruins do return many of the key starters which propelled them to a successful 10-3 record last year and bowl victory over Virginia Tech in the Sun Bowl, there are holes which need to be filled and those spots are up for grabs. Highly touted newcomers and experienced returnees alike have a shot at gaining these spots, Spring practice should provide an answer to many of...
Either Myles Jack is really, really good, or the rest of the Pac-12′s freshman class is really, really bad. Whichever way you cut it, the UCLA freshman started the first eight games of the Bruins' season as a linebacker before coach Jim Mora decided that, heck, why not try the kid on the other side of the ball? In went Jack at running back, where through four games, he racked...
UCLA's Myles Jack has been named the freshman offensive and defensive player of the year in the Pac-12. Jack, who came to UCLA as a linebacker, was inserted into the lineup as a running back the last four games this season. He finished with 269 yards rushing, averaging 7.2 yards per carry, and scored seven touchdowns. On defense, he had 70 tackles. He clinched a 34-27 victory...
The UCLA coaches knew they had something when they recruited Myles Jack. He proved them right by earning a job starting at linebacker to start the season. With 64 tackles through last week's game against Arizona the true freshman has met expectations.So why not see if he can play running back as well?@smashleyaz/TwitterIt is not unusual for players to do part time duty on the...
LOS ANGELES -- As freshman linebacker Myles Jack wound down his session with the media Monday, a few last questions came from the back of the scrum. "Hey Myles, how'd you like playing running back?" Jack laughed and shook his head. "It was cool. A nice little changeup, you know," Jack said. "So you're comfortable back there? You wouldn't mind...
Brett Hundley scrambles. Hundley went 17-27 and 211 yards in the Bruins 34-27 win over Utah UCLA entered Pac-12 play on Saturday against Utah and escaped with a 34-27 win to move to 4-0 on the season. Brett Hundley continued to impress the entire country with his performance that featured 211 yards passing and 85 rushing yards and a touchdown for each category. Oh, and he caught...
MORE STORIES >>
College Football News

Delivered to your inbox

You'll also receive Yardbarker's daily Top 10, featuring the best sports stories from around the web. Customize your newsletter to get articles on your favorite sports and teams. And the best part? It's free!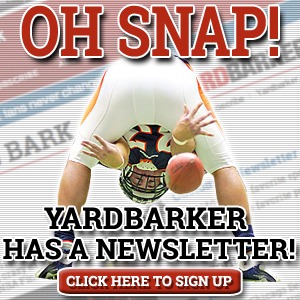 THE COLLEGE FOOTBALL HOT 10