Nick Saban and Alabama will head into West Virginia to open up the college football season this weekend, bringing the 'Bama head coach back to the place where he grew up and learned the game. Saban played high school football for Monongah, leading the Black Diamonds to an undefeated 1968 championship season as a quarterback & defensive back in his senior year. Saban was a pivotal...
Both Kristen Saban, daughter of Alabama Coach Nick Saban, and West Virginia quarterback Clint Trickett are no strangers to controversy. Trickett is known for shooting his mouth off with socially regressive, sexist drivel on Twitter. Take a look, he hit all the gender-bashing cliches in under 140 characters; so he's efficient in his misogyny. "Watchin football with girls is literally...
Nick Saban often gets irritated with the media. The Alabama leader, a former colleague and current friend of Bill Belichick, takes after the New England Patriots coach when it comes to dealing with reporters. Saban doesn't like to say much.  Today provided us with another example of that. Appearing on the SEC coaches teleconference call, Saban was asked some questions about his...
Hail Saban! Dana Holgorsen and Clint Trickett. Via al.com.West Virginia starting quarterback Clint Trickett kissed a girl, and he liked it. (Presumably.) The bad news for Trickett, her daddy is coaching the team that he and his fellow West Virginia Mountaineer teammates will be facing on Saturday in Atlanta as part of the Chick-fil-A Kickoff Game.Yes, Clint Trickett once kissed...
If Nick Saban calls for a few extra blitzes during Alabama's season-opening game Saturday against West Virginia, you'll know why. West Virginia starting quarterback Clint Trickett, whose family has a good relationship with Saban, admitted Tuesday that his first kiss was Nick's daughter, Kristen. The admission came up when asked if he knows Saban well. […]
Clint Trickett's full quote, context and all. Romeo and Juliet scene gonna play out Saturday in Atlanta. #WVU pic.twitter.com/S6aDXlcWlR — Stephen...
Hail Saban! Nick Saban at 2014 Sugar Bowl. Via al.com.Did you ever have to make up your mind? Alabama head coach Nick Saban does. He has to decide who between quarterbacks Jake Coker and Blake Sims will be tapped to become the starting QB for the Crimson Tide.Saban is also running out of time to do it. The Tide are set to face off against Virginia Tech in its season opener as part...
TUSCALOOSA, Alabama — Nick Saban addressed the media on Monday to kick off the first game-week of the season, with West Virginia first up on the schedule Saturday in the Georgia Dome.   Nick Saban Video via – Al.com The post Nick Saban Press Conference – WVU appeared first on Blue Gold Sports.
Despite being linked to other jobs every offseason, Nick Saban has maintained that Alabama is the final stop in his coaching career. Saban is heading into his seventh year as Alabama's head coach and from all accounts, he's pretty comfortable with his on the field pursuits in Tuscaloosa. As for his off the field pursuits in the state of Alabama, it seems that Saban is becoming...
Nick Saban has been very coy when asked who will get the start against the Mountaineers in the Tides opener on August 30th. Many felt that Jake Coker would be the hands down favorite for the job after transferring from FSU. Jimbo Fisher even went as far to proclaim that Coker was the best Tide QB in the Saban Era (read article here). However, as of this past weekend Saban has yet...
MORE STORIES >>
College Football News

Delivered to your inbox

You'll also receive Yardbarker's daily Top 10, featuring the best sports stories from around the web. Customize your newsletter to get articles on your favorite sports and teams. And the best part? It's free!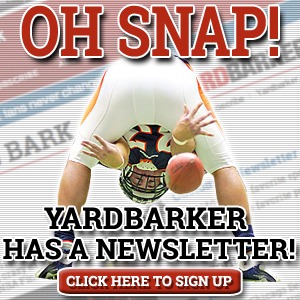 THE COLLEGE FOOTBALL HOT 10