Nick Saban has praise for Will Muschamp and the Florida Gators prior to Alabama's Saturday matchup in Tuscaloosa.
Florida football was terrible last season. The Gators went 4-8, had won of the worst offenses in America, and closed the season on a seven game losing streak. Coming into this year, Florida was expected to improve, but there weren't many people that expected much out of Will Muschamp's team in 2014. However, at least one person thinks the Gators are better than anyone expects...
The offensive line might be the most important unit on a college football team, but the way the big uglies play isn't exciting enough for Nick Saban.  The Alabama coach, following the Crimson Tide's blowout, 52-16 victory against Southern Miss, admitted that he doesn't really pay attention to his offensive line. He understands the importance of the five players, but Saban...
Drew Clayton knew his girlfriend, Kayla Posey, loved the University of Alabama, so when he was devising his proposal plan in May, it had to be Alabama-themed. Posey worked in the football offices at Alabama while she was a student there, working her way up to be one of coach Nick Saban's student assistants. Clayton pulled some strings and replaced Saban's 2012 national championship...
When Nick Saban was not in the office on May 2, he probably had no idea that his private room would be used for a marriage proposal. But that's exactly what happened. A young man named Drew Clayton pulled some strings and set up a marriage proposal from inside the Alabama coach's office for his […]
Proposal stories don't get much crazier than the one told this morning by AL.com.  Drew Clayton, a Mississippi State graduate, decided this past May that he wanted to propose to his girlfriend, Kayla Posey, who was completing her graduate degree at Alabama. Thanks to some of Posey's connections (she's worked for a couple years in the Crimson Tide football office before becoming...
Hail Saban!  Jacob Coker. Photo via al.com.Alabama starting quarterback Jacob Coker went 15-of-24, with 202 yards and one touchdown in The Crimson Tide's  41-0 destruction of Florida Atlantic last Saturday. It was his first time leading the Tide's offense for the former transfer from Florida State.What did Alabama head coach Nick Saban think about Coker's performance...
Alabama Crimson Tide head coach Nick Saban will never join Twitter, dashing our hope of getting a follow. Saban was in Tuscaloosa Thursday night for Hey Coach, his weekly live radio show, where Saban takes questions from callers and the audience. The Tide coach is known for his rigid routine and adherence to a strict schedule. While there's little doubt that Saban has people on...
Hail Saban!Nick Saban, Dark Master of product placement. Via al.com.Alabama dipped a toe into the Dark Side on Saturday when it went with a no-huddle offense on several plays against West Virginia. The Tide didn't go the Full Monty hurry-up no-huddle, it was a noticeable change in direction.Crimson Tide head coach Nick Saban, one of the HUNH offense, explained why the offense...
Nick Saban and Alabama will head into West Virginia to open up the college football season this weekend, bringing the 'Bama head coach back to the place where he grew up and learned the game. Saban played high school football for Monongah, leading the Black Diamonds to an undefeated 1968 championship season as a quarterback & defensive back in his senior year. Saban was a pivotal...
MORE STORIES >>
College Football News

Delivered to your inbox

You'll also receive Yardbarker's daily Top 10, featuring the best sports stories from around the web. Customize your newsletter to get articles on your favorite sports and teams. And the best part? It's free!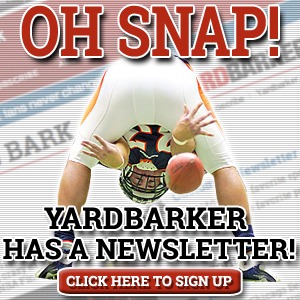 THE COLLEGE FOOTBALL HOT 10