Melifonwu was a bright spot on a team that struggled in 2016 and could sneak into the first round. Obi Melifonwu- Safety, UConn Huskies HEIGHT: 6'3" WEIGHT: 217 ARM LENGTH: 32 1/2" HANDS: 9 1/8" PROJECTED ROUND: 2nd ROUND 40 YD DASH (NFL Combine): 4.40 sec BENCH PRESS (NFL Combine): 17 VERTICAL (NFL Combine): 44" BROAD JUMP (NFL Combine): 141" Brian Spurlock-USA TODAY Sports ...
Get to know Connecticut cornerback Obi Melifonwu with our latest NFL Draft Profile.
A few interesting facts about the Connecticut safety.
The 2017 NFL draft is about a month away, and the draft board looks like a Chutes and Ladders board with all the names going up and down.These players have seen their draft stock fluctuate wildly and probably have to brace for another roller coaster month before they finally know their future.(NFL Draft Scout and NFL.com were used for scouting reports.) Rising: Gareon Conley, CB...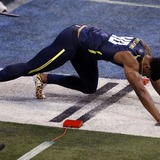 The 2017 NFL Combine has come and gone, but as it's always been intended, the week-long event in Indianapolis helped many young prospects boost their draft stock with quality performances. And with Pro Days now being held around the county, even more prospects are helping their cause by showing NFL scouts they're a cut above the rest.While much will change between now and the 2017...
I want all the defensive backs. The motto has not changed. In a class that's completely loaded with talent at both corner and safety, Reggie needs to focus on the future of the group and start investing. I hope. Today, we're looking at a safety from the University of Connecticut. Yes, Connecticut. I've heard he's
As part of our coverage leading up to the 2017 NFL Draft we will provide profiles of more than 100 prospects, including a scouting report
The NFL Combine took place over the past weekend, and many players affected their draft stock with their performances. Most noticeably, Texas A&M star Myles Garrett proved that he is the #1 overall prospect with his extreme athleticism. Another standout was Connecticut safety Obi Melifonwu, who shined in the 40-yard dash and impressed with a 44-inch vertical jump. Melifonwu also...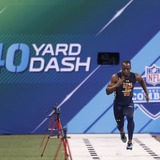 After a week of being poked and prodded, a week of lifting, running, jumping and being grilled, NFL hopefuls can finally put the 2017 NFL Scouting Combine in their rear-view mirror.While the combine isn't the end all, be all when it comes to evaluating talent, it does serve a valuable service. Interviews are critically important, and so is comporting oneself in a professional manner...
DraftSeason: Obi, you raised a lot of eye brows during your week at Mobile for the Senior Bowl, what did you take away from your time with some of the best in the nation?Obi Melifonwu: One thing I took away from my time with some of the best in the nation, was that we are all trying to reach our dreams that we set forth as little kids. I also took away the fact that this game teaches...
MORE STORIES >>
College Football News

Delivered to your inbox

You'll also receive Yardbarker's daily Top 10, featuring the best sports stories from around the web. Customize your newsletter to get articles on your favorite sports and teams. And the best part? It's free!
THE COLLEGE FOOTBALL HOT 10