Pop in some tape on former Georgia tight end Orson Charles and it's easy to see why teams looking for a tight end would be intrigued. He's somewhat undersized, but he's also an athletic playmaker from the tight end position that was able to consistently stretch the field against SEC defenses (caught 94 passes for 1370 yards & 10 TDs in his three year career). In a league...
Former Georgia tight end Orson Charles is out of jail following an arrest on a drunken driving charge. Athens-Clarke County police spokeswoman Hilda Sorrow says Charles was arrested at 3 a.m. Friday after he was stopped while driving in Athens. Sorrow says Charles failed parts of a field sobriety test and his blood alcohol level was .095, above the state's legal limit of .08...
Via AP on Fox
Former Georgia tight end Orson Charles was arrested early this morning on DUI Alcohol and driving at a minimum speed charges in Athens. Seeing as though Charles is thought to be the #1 tight end in the draft and with the draft a mere month away, it's pretty obvious that this certainly isn't the best timing.Charles was arrested by the Athens-Clarke County Police and booked into...
Former Georgia TE Orson Charles Picks Up a Timely DUIOne of the top TE prospects entering the 2012 NFL draft is in some hot water this morning after being arrested for a DUI. Former Georgia TE Orson Charles was picked up early Friday by police near Georgia's campus. CBSSports.com has more: That news was first reported by the Georgia student newspaper Red & Black. CBSSports...
After busting out the gate with 35 reps of 225-lbs, at the NFL Combine, Orson Charles' fell a little short of expectations by making the decision not to run the 40. While many felt it was a poor move by Charles, the truth is his speed was never going to be in question. Most people expect Charles to run around a 4.5 40. His ability to stretch the field and offer value as a...
Orson Charles TE Georgia #7 Ht: 6'3″ Wt: 242   Strengths: Quick off the snap. Does a nice job fighting through press coverage; quick enough to shake more physical linebackers in coverage. Reliable hands; can make the tough catch in traffic. Does a really nice job staying low and using good leverage on his blocks. Plenty of experience against top competition; three year...
Georgia tight end Orson Charles is entering the NFL draft. Charles announced Wednesday that he's giving up his final season of eligibility with the Bulldogs. He has yet to hire an agent but says there's no chance of a return for his senior year. The 6-foot-3, 241-pound Charles made 45 catches this past season, tied for second on a Georgia team that went 10-4 and reached...
Was it just me or did Orson Charles look a little frustrated seeing Tavarres King snag 205-yards as Aaron Murray's principle target while he languished in double and triple coverages from the Michigan State secondary? It was obvious that he wasn't going to get many looks after Murray kept keying in on King—a move that ultimately would contribute to his two interceptions—and...
Orson Charles, the talented tight end out of Plant High School in Tampa, Fl, signed with the Georgia Bulldogs in 2009 and instantly became an impact player. His quickness off the line, ability to catch passes over the middle, and undeniable athleticsim transformed him into one of the best at his position—both in the SEC and the NCAA—so it should not have come as a surprise that...
Georgia Bulldogs tight end Orson Charles is reportedly entering the draft, according to Tony Pauline of DraftInsider.net. Charles is currently my 4th-ranked tight end, and looks like late 2nd or 3rd-round prospect. If does go pro, it's a curious decision. Georgia is playing well, led by redshirt sophomore quarterback Aaron Murray, and will likely be a top-10 team entering 2012...
MORE STORIES >>
College Football News

Delivered to your inbox

You'll also receive Yardbarker's daily Top 10, featuring the best sports stories from around the web. Customize your newsletter to get articles on your favorite sports and teams. And the best part? It's free!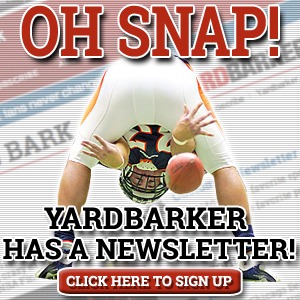 THE COLLEGE FOOTBALL HOT 10