Tim Beckman is 5-18 (very likely 5-19 by the time you actually read this) versus FBS college football teams during his tenure at Illinois. It is a fact that the Northern Illinois football team has three wins over Big Ten teams in the past two years. Beckman has just one. It is a fact that NIU has the second most victories of any FBS team (Oregon is first) over the past four years...
Big Ten football didn't have too many shocks last week. There were only two real surprises, one pleasant (Rutgers' win over Washington State) and one unpleasant but probably not all that surprising (Northwestern's loss to Cal, which is the fault of everybody but Pat Fitzgerald, to hear him tell it). What's in store for week two? Click through and see how I'm calling the...
If Pat Fitzgerald has his eyes on any players out of Nebraska, he probably isn't making any new friends there. After playing in a golf tournament with the other NU coaches and dozens of Wildcat supporters, Fitzgerald asked fans to fill Ryan Field, especially for the October 18 Homecoming game against Nebraska, a fanbase that is notorious for travelling well. He also threw a jab...
Pat Fitzgerald has become the highest paid employee of Northwestern University. According to a report by USA Today, the Wildcats' head football coach was credited with a compensation package worth at least $2.2 million dollars in 2011. This marks the first time since 2005 that a Northwestern coach has been the private university's highest paid employee. "Pat Fitzgerald...
While most major college football programs spend their time leading up to gameday going over scouting reports, running over plays, or even stuffing their faces with a big meal, the Northwestern Wildcats are employing a different approach this year -- napping. "We'll wake up, have our pregame meal, do our mental things and then have a mandatory nap," Northwestern quarterback...
If head coach Pat Fitzgerald's Northwestern Wildcats appear to be playing with a little more cohesiveness this season, you'll know exactly why. Fitzgerald welcomed three members of the Navy SEALs unit to speak to the team about mental toughness, thriving under pressure and sacrificing for the greater good. After that meeting session, the team was instructed to board team...
CHICAGO A plush monkey toy rests comfortably inside the office of Northwestern football coach Pat Fitzgerald. But this is not some cutesy, fuzzy friend Fitzgerald gazes at with delight during his down time between film study and practice preparation. Instead, he would prefer the monkey cease to exist its big, cheerful, plastic eyes masking the symbolism of a program's failure...
This year Northwestern is switching uniform providers from Adidas to Under Armour. This could be good or it could be disastrous. Either way the is the most recent evidence that Northwestern is actively trying to improve their athletic department. As the B1G's only private university Northwestern is at a competitive disadvantage. Years of apathy have left the Wildcats trailing...
Pat Fitzgerald and Tim DeRuyter sat next to each other in a little room on the service level at Reliant Stadium Thursday as two very different men in the exact same position. It was a press conference for the Meineke Car Care Bowl of Texas, and while both expressed all the due excitement about the opportunity to play in a bowl game, neither could help but mention the disappointing...
With the 28-25 upset of the ninth-ranked Nebraska Cornhuskers this past Saturday, Northwestern Head Coach Pat Fitzgerald gained sole possession of second place on NU's all-time coaching wins list. Fitzgerald stands at 38 wins, one more than his predecessor Randy Walker and 11 behind Lynn Waldorf's school-record of 49. Fitz is inked to be at the school till 2020, so it's safe...
MORE STORIES >>
College Football News

Delivered to your inbox

You'll also receive Yardbarker's daily Top 10, featuring the best sports stories from around the web. Customize your newsletter to get articles on your favorite sports and teams. And the best part? It's free!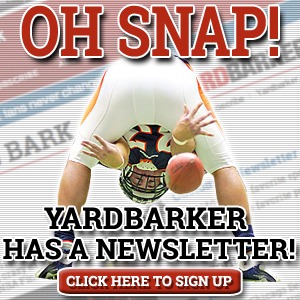 THE COLLEGE FOOTBALL HOT 10