College football is back and with that the Kentucky Wildcats took the field for the first time in 2014. Despite Commonwealth Stadium being less than full for the opener, there is excitement about this season. Fans are excited about what Mark Stoops is doing. And Saturday gave us our first opportunity to see a bunch of players that are behind that excitement. Whether or not Kentucky...
LEXINGTON, Ky. (AP) Patrick Towles isn't about to let nerves spoil the opportunity he has waited for his whole career. Kentucky's new starting quarterback has encountered many bumps, from being thrown into action as a freshman in 2012 because of injuries to struggling to learn a new coaching staff and offensive scheme last fall. Being redshirted has turned out to be a blessing...
  Patrick Towles says he felt relieved after winning the competition to be Kentucky's starting quarterback. He says is ''super excited'' to get the opportunity that he has worked so hard to get. The 6-foot-5, 238-pound redshirt sophomore was considered the favorite heading into camp, and he eventually beat out redshirt freshman Reese Phillips, freshman Drew Barker...
University of Kentucky Football coach Mark Stoops named Patrick Towles his starting QB going into the 2014 season.  The former Mr. Football for the state of Kentucky turned down offers from Arkansas and Cincinnati and wanted to stay in his home state, choosing Kentucky over Louisville. Towles beat out Maxwell Smith for the top signal caller spot. Smith in 2013 led the Wildcats...
Is Patrick Towles ready to run Mark Stoops' air-raid offense? — Mandatory Credit: Jason Marcum Be careful what you wish for. Kentucky Wildcats' Patrick Towles wanted one of the most difficult jobs in college sports. He wanted to be an SEC quarterback. Mark Stoops granted that wish. After thorough evaluation and a hard fought competition, we are naming Patrick Towles as our...
The Kentucky Wildcats football team was back on the field for an open practice session Monday morning. This was also the first practice in which Patrick Towles was he man at quarterback. Here are some of my quick thoughts on what went on during this session. *Patrick Towles is the clear starter.  Towles had what […]
LEXINGTON, Ky. (AP) Kentucky coach Mark Stoops has announced that redshirt sophomore Patrick Towles will be the Wildcats' starting quarterback this season. Stoops tweeted out his decision before Monday morning's practice, saying, ''this competition has brought out the best in our quarterbacks and I'm confident in Patrick moving our team forward.'' The...
Via AP on Fox
It hasn't been easy being Kentucky's quarterback the past few seasons. But Mark Stoops knows which player he wants to try and change that. Direct from Stoops' Twitter feedMonday morning. A redshirt sophomore, Towles beat out redshirt freshman Reese Phillips and four-star true freshman Drew Barker, an early enrollee. Towles was considered the narrow favorite coming out...
Patrick Towles made his case to be Kentucky's starting quarterback. (Photo: Jason Marcum) You can close the book on Kentucky's 2014 spring football game as the Blue team downed the White team 38-14. While the scrimmage wasn't exactly chock full of explosive plays, it was apparent that this year's roster is already much more polished than last year's. Following are a few...
Due to what his father called a "scheduling snafu," Kentucky sophomore quarterback Patrick Towles will not go to San Diego to work with quarterback guru George Whitfield Jr. during spring break next week. Instead, he'll go to San Diego May 19-30 after UK's spring semester ends. Whitfield has worked with Andrew Luck and Cam Newton, both former No. 1 picks in the...
MORE STORIES >>
College Football News

Delivered to your inbox

You'll also receive Yardbarker's daily Top 10, featuring the best sports stories from around the web. Customize your newsletter to get articles on your favorite sports and teams. And the best part? It's free!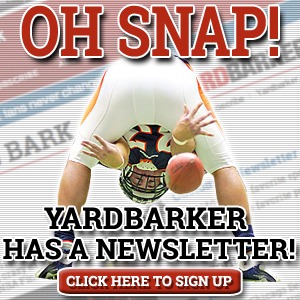 THE COLLEGE FOOTBALL HOT 10