OXFORD, Ohio (AP) Rakeem Cato threw three touchdowns- all in the first half- and ran for one more to lead Marshall to a 42-27 victory over Miami (Ohio) in a season opener on Saturday. Cato threw an 11-yard pass to Eric Frohnapfel for the first score and racked up 124-passing yards and two touchdowns in the first quarter. A 1-yard TD pass to Frohnapfel - set up by Devon Johnson&...
Former Marshall great Chad Pennington sharing his insights with Heisman candidate Rakeem Cato. When I met with Cato at the Conference USA Media Days, I saw a hungry and yet humble young man who wanted nothing more than for his team to be successful even if it meant he would not win the Heisman or add to his incredible stats. It's these intangibles NFL teams need to look at first...
Expectations are incredibly high for the Marshall Thundering Herd in 2014. Led by a Heisman hopeful in quarterback Rakeem Cato, many think that the Conference USA power has the ability to run the table this season, and make choosing the first set of four teams for the College Football Playoff that much trickier.  Marshall will certainly look slick as they make their bid for an undefeated...
The Heisman Trophy is given to the nation's best college football player according to his play on the field, but there is always a certain amount of politicking that goes on in the race. It is especially important for small schools that want to get their stars on the map. Marshall is starting early on quarterback Rakeem Cato's Heisman campaign, and have launched a website all...
Marshall coach Doc Holliday with Quarterback Rakeem Cato and Defensive Lineman James Rouse were on hand for Conference USA's 2014 Media Days.  In his 5th year at the helm, coach Holliday had his team believing they should expect nothing less than an Conference USA Championship.  Let the chips fall where they may as the Thundering Herd are looking to shake up the College Football...
The 2013 Military Bowl started off with a sky diver flying into the stadium, but the aerial assault did not stop there. Marshall quarterback Rakeem Cato lit up the Maryland defense for 337 yards and three touchdowns to lead the Thundering Herd to a 31-20 win over the Terrapins.@cjzero/TwitterCato  got the scoring started off with a one-yard pass to Tommy Shuler to put Marshall on...
Rakeem Cato and Marshall look to pick up a difficult win at Rice. Photo: USA Today Sports While we have been spending time breaking down the conference championship games for the big boy conferences, we have some thoughts to share on what should be an entertaining Conference USA Championship Game between Rice and Marshall. Rice gets the home field advantage in this year's...
Marshall Thundering Herd quarterback Rakeem Cato was scrambling to get away from pressure when he coughed the ball up.  Southern Mississippi looked like they would recover the ball, but they couldn't fall on it.  Marshall and USM then spent the next few seconds scrambling around the field trying to recover a fumble that looked like a hot potato.  Might want to work on being...
Rakeem Cato threw five touchdown passes for Marshall in a 52-14 victory over Miami (Ohio) in the season opener for both teams Saturday night. Cato had a game-changing third quarter with three touchdown passes to break a tie and ignite 37 unanswered points for the Thundering Herd. Cato led the nation in passing yards and completions per game last season. Marshall's 304 total...
First there was Chad Pennington, then there was Byron Leftwich, and now there's Rakeem Cato. Photo Credit: Mark Webb/The Herald-Dispatch Marshall fans have been waiting for the third coming and he has finally come. This season with the help of their slinger, a great receiving core, and former Marshall slinger and Assistant Head Coach Tony Peterson Marshall's offense ranked...
MORE STORIES >>
College Football News

Delivered to your inbox

You'll also receive Yardbarker's daily Top 10, featuring the best sports stories from around the web. Customize your newsletter to get articles on your favorite sports and teams. And the best part? It's free!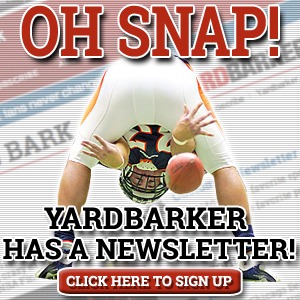 THE COLLEGE FOOTBALL HOT 10