COLLEGE PARK, Md. (AP) The game plan was fine. The execution was not. That's how Maryland coach Randy Edsall explained the horrid performance of his defense against West Virginia last Saturday in a 40-37 defeat. The Terrapins surrendered 33 first downs and 694 total yards, their worst defensive performance since Florida State piled up 858 yards against them in 1992. ''...
It was a comfortable day in College Park on Saturday afternoon. Some light rain showers entered the area off and on, but nothing to effect the outcome of the game. It was typical WVU vs Maryland. Physical and hard hitting, the way the game should be played. When the game was over, Maryland head coach Randy Edsall had a problem, and it wasn't with his defense, but the West Virginia...
Detroit Free Press - Add Randy Edsall to the list of people who say Michigan Stadium isn't very loud despite being able to house more than 110,000 people. The Maryland head coach, whose team has just joined the Big Ten, recalls when he coached Connecticut for a visit to the Big House in 2010. U-M won that game 30-10. Edsall's Terrapins will visit Michigan on Nov. 22, the week...
You can likely cross Michigan off the list of teams that will welcome newcomer Maryland with open arms to the Big Ten this season.  In an interview with Washington, D.C's 106.7 The Fan Wednesday afternoon, Terrapins' coach Randy Edsall made some not-so-flattering comments about the Wolverines' football stadium, dubbed by most as "The Big House."  Sure, it's large, Edsall...
Randy Edsall came to the Maryland Terrapins in 2011 with some big shoes to fill. He was replacing arguably the most beloved coach in Maryland football history, Ralph Friedgen. If that wasn't daunting enough, according to Ivan Maisel of ESPN.com, 24 of Edsall's players transfered in the first year. That team went on to a 2-10 record. There was cautious optimism heading into...
Clemson head coach Dabo Swinney has not been shy to boast about the unprecedented success his Tigers have had over the past few seasons. So it should come as no surprise that when asked about Maryland coach Randy Edsall's recent comments regarding the Big Ten's status as a "football conference", Swinney made sure to remind everyone what happened when his team ran into B1G...
Coach Randy Edsall has announced that Wrestler Spencer Myers has officially joined the Maryland football team. Myers shared, "This is something I have been contemplating since coming to Maryland.  It was one of the best decisions in my life to wrestle. But an opportunity arose to get a scholarship to play football and it's something I've really wanted to do. It's a great...
It took awhile, but Randy Edsall finally responded to recent comments made by James Franklin, who declared the state of Maryland as an "in-state" recruiting area for Penn State under his reign as head coach.Edsall's response wasn't your prototypical jab at a rival that we're accustomed to seeing. But he certainly made his feelings known that the Terrapins aren...
Late Wednesday night news broke that Notre Dame defensive coordinator Bob Diaco had been hired as the new head football coach at UConn. The 40-year-old Diaco and Connecticut reportedly reached a five-year contract that will start at $1.5 million per year. Diaco has been at Notre Dame since 2010, arriving with head coach Brian Kelly from Cincinnati. He won the 2012 Broyles Award,...
The Testudo Times was able to obtain these photos of Maryland's field turf which, for some reason, is being grayed out in a swatch like pattern. Randy Edsall, the Maryland head coach, seems like the type of guy who would like this. He lets his team captains pick out their uniform colors before games which have been know to be more than a little crazy. The new turf does happen to...
MORE STORIES >>
College Football News

Delivered to your inbox

You'll also receive Yardbarker's daily Top 10, featuring the best sports stories from around the web. Customize your newsletter to get articles on your favorite sports and teams. And the best part? It's free!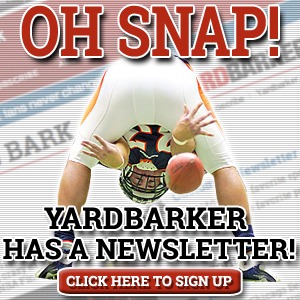 THE COLLEGE FOOTBALL HOT 10