Representatives of the Maryland and Rutgers athletic departments were seen crying and running from the opening of Big Ten media days this morning when they discovered that their supposed membership into the conference was all a cruel prank by Big Ten members to make them think they were desired and popular. "You idiots! No one likes you! You're pathetic," Big Ten commissioner...
Maryland coach Randy Edsall fired some parting shots at the ACC, but he couldn't get in the last word. At ACC Media Days on Monday, Clemson Coach Dabo Swinney fired back at Edsall's comments...Story
Clemson head coach Dabo Swinney has not been shy to boast about the unprecedented success his Tigers have had over the past few seasons. So it should come as no surprise that when asked about Maryland coach Randy Edsall's recent comments regarding the Big Ten's status as a "football conference", Swinney made sure to remind everyone what happened when his team ran into B1G...
Maryland coach Randy Edsall during an event held by pressbox,  "As a football coach, I feel better.  I'm going to a football conference. I'm not in a basketball conference anymore."  Was this a jab at the ACC?  If you were to ask Maryland who their rival was while they were in the ACC, they would probably say Duke.  I am no so sure Duke would say the same.  The Blue...
Maryland recently moved from the ACC to the Big Ten, marking a new era for the university. While it's an exciting move for the university, as evidenced by the fact that its football coaching staff works in their "Think B1G" sunglasses, few people are more excited than Terrapins football coach Randy Edsall. Not because of more exposure or anything like that, but because by his...
The Randy Edsall era at Maryland has certainly been shaky thus far. The former UConn coach went 2-10 and 4-8 in his first two seasons before posting a 7-6 bowl campaign in year three, the school's final season as a member of the ACC. While 13-24 record is nothing to write home about, Terps fans will tell you that injuries have been a major factor, especially in the last two years...
Maryland head football coach Randy Edsall decided to do something pretty common this morning when he tweeted out motivational lyrics from a song by Drake. There was just one problem: Edsall got the words wrong. "Work until your idols become your rivals "_ Drake — Randy Edsall (@RandyEdsall) July 5, 2014 The lyrics come from Drake's song "Thank Me Now" off of his debut...
Coach Randy Edsall has announced that Wrestler Spencer Myers has officially joined the Maryland football team. Myers shared, "This is something I have been contemplating since coming to Maryland.  It was one of the best decisions in my life to wrestle. But an opportunity arose to get a scholarship to play football and it's something I've really wanted to do. It's a great...
In an interview with Cleveland.com, Maryland coach Randy Edsall shared that his focus is not to try to be the traditional powers of the Big 10, but that they would strive to make an impact and a name for themselves with their own unique brand of football.  The Terrapins coach shared,  "We're not going to be Ohio State, we're not going to be Michigan and we're not going...
It took awhile, but Randy Edsall finally responded to recent comments made by James Franklin, who declared the state of Maryland as an "in-state" recruiting area for Penn State under his reign as head coach.Edsall's response wasn't your prototypical jab at a rival that we're accustomed to seeing. But he certainly made his feelings known that the Terrapins aren...
MORE STORIES >>
College Football News

Delivered to your inbox

You'll also receive Yardbarker's daily Top 10, featuring the best sports stories from around the web. Customize your newsletter to get articles on your favorite sports and teams. And the best part? It's free!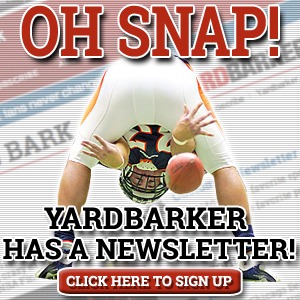 THE COLLEGE FOOTBALL HOT 10