Maryland head coach Randy Edsall only attempted one pass in his four years as a quarterback while at Syracuse University. On Saturday he showed that he may have been a pretty darn good wide receiver or defensive back, as he stretched to catch a pass from Iowa's quarterback Jake Ruddock on the sidelines. Edsall really climbed the ladder to make the grab. It makes it kind of hard...
It was a comfortable day in College Park on Saturday afternoon. Some light rain showers entered the area off and on, but nothing to effect the outcome of the game. It was typical WVU vs Maryland. Physical and hard hitting, the way the game should be played. When the game was over, Maryland head coach Randy Edsall had a problem, and it wasn't with his defense, but the West Virginia...
You can likely cross Michigan off the list of teams that will welcome newcomer Maryland with open arms to the Big Ten this season.  In an interview with Washington, D.C's 106.7 The Fan Wednesday afternoon, Terrapins' coach Randy Edsall made some not-so-flattering comments about the Wolverines' football stadium, dubbed by most as "The Big House."  Sure, it's large, Edsall...
Maryland head football coach Randy Edsall decided to do something pretty common this morning when he tweeted out motivational lyrics from a song by Drake. There was just one problem: Edsall got the words wrong. "Work until your idols become your rivals "_ Drake — Randy Edsall (@RandyEdsall) July 5, 2014 The lyrics come from Drake's song "Thank Me Now" off of his debut...
It took awhile, but Randy Edsall finally responded to recent comments made by James Franklin, who declared the state of Maryland as an "in-state" recruiting area for Penn State under his reign as head coach.Edsall's response wasn't your prototypical jab at a rival that we're accustomed to seeing. But he certainly made his feelings known that the Terrapins aren...
Late Wednesday night news broke that Notre Dame defensive coordinator Bob Diaco had been hired as the new head football coach at UConn. The 40-year-old Diaco and Connecticut reportedly reached a five-year contract that will start at $1.5 million per year. Diaco has been at Notre Dame since 2010, arriving with head coach Brian Kelly from Cincinnati. He won the 2012 Broyles Award,...
By Justin Burnette Maryland coach Randy Edsall was asked during the ACC Media Day if he is OK with the current Notre Dame-ACC agreement. As many fans know, independent Notre Dame agreed to play five games against ACC schools beginning in 2014 and the Irish are now affiliated with the Orange Bowl which means the they could get selected to the bowl over an ACC program. Edsall said...
Tweet   When Randy Edsall left the Connecticut Huskies two years ago to be the head football coach at the University of Maryland he called it his dream job. Through two seasons Edsall has a 6-18 record with the Terps, including a 4-8 2012 season that saw the team suffer a multitude of injuries most [...]
The Testudo Times was able to obtain these photos of Maryland's field turf which, for some reason, is being grayed out in a swatch like pattern. Randy Edsall, the Maryland head coach, seems like the type of guy who would like this. He lets his team captains pick out their uniform colors before games which have been know to be more than a little crazy. The new turf does happen to...
In a little more than a year into his reign as the head football coach at Maryland, Randy Edsall went from a celebrated honeymoon to the subject of intense scrutiny. The falling out included a prominent sports columnist calling for Edsalls termination. But Edsall isnt reading what John Feinstein writes, or what many callers on radio shows in the Washington, D.C. and Baltimore areas...
MORE STORIES >>
College Football News

Delivered to your inbox

You'll also receive Yardbarker's daily Top 10, featuring the best sports stories from around the web. Customize your newsletter to get articles on your favorite sports and teams. And the best part? It's free!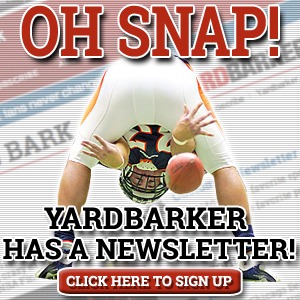 THE COLLEGE FOOTBALL HOT 10