COLLEGE PARK, Md. (AP) Before Maryland can start thinking about facing Big Ten competition, the Terrapins first must get through their non-conference schedule - beginning with Saturday's home game against James Madison. After playing in the Atlantic Coast Conference since 1953, Maryland is about to embark on its first season in the Big Ten. But league play doesn't begin...
Detroit Free Press - Add Randy Edsall to the list of people who say Michigan Stadium isn't very loud despite being able to house more than 110,000 people. The Maryland head coach, whose team has just joined the Big Ten, recalls when he coached Connecticut for a visit to the Big House in 2010. U-M won that game 30-10. Edsall's Terrapins will visit Michigan on Nov. 22, the week...
Welcome to the new era of the Big Ten, and lucky for those of you who decided to enjoy your summers we've spent hours pouring over available film and speaking to writers, players and even head coach Randy Edsall. It's allowed us to get as familiar with a team who isn't all that familiar to most of the conference as possible.  B1G West Predictions: Illinois | Iowa | Minnesota ...
Maryland joins the Big Ten this season and will play at many big-time venues in their first year in the conference. The Terps visit Wisconsin, Penn State and later in the year, Michigan. Maryland head coach Randy Edsall has been asked about transitioning into the new league, and one question he's continuously faced has to […]
You can likely cross Michigan off the list of teams that will welcome newcomer Maryland with open arms to the Big Ten this season.  In an interview with Washington, D.C's 106.7 The Fan Wednesday afternoon, Terrapins' coach Randy Edsall made some not-so-flattering comments about the Wolverines' football stadium, dubbed by most as "The Big House."  Sure, it's large, Edsall...
COLLEGE PARK, Md. (AP) As a sixth-year senior, Maryland quarterback C.J. Brown has accumulated invaluable experience on the football field and a wealth of knowledge in the classroom. The tradeoff is that the 23-year-old feels his age when surrounded by dozens of teammates not far removed from high school. ''Every day I come off the practice field I definitely feel like the...
Randy Edsall came to the Maryland Terrapins in 2011 with some big shoes to fill. He was replacing arguably the most beloved coach in Maryland football history, Ralph Friedgen. If that wasn't daunting enough, according to Ivan Maisel of ESPN.com, 24 of Edsall's players transfered in the first year. That team went on to a 2-10 record. There was cautious optimism heading into...
Clemson head coach Dabo Swinney has not been shy to boast about the unprecedented success his Tigers have had over the past few seasons. So it should come as no surprise that when asked about Maryland coach Randy Edsall's recent comments regarding the Big Ten's status as a "football conference", Swinney made sure to remind everyone what happened when his team ran into B1G...
Maryland recently moved from the ACC to the Big Ten, marking a new era for the university. While it's an exciting move for the university, as evidenced by the fact that its football coaching staff works in their "Think B1G" sunglasses, few people are more excited than Terrapins football coach Randy Edsall. Not because of more exposure or anything like that, but because by his...
It took awhile, but Randy Edsall finally responded to recent comments made by James Franklin, who declared the state of Maryland as an "in-state" recruiting area for Penn State under his reign as head coach.Edsall's response wasn't your prototypical jab at a rival that we're accustomed to seeing. But he certainly made his feelings known that the Terrapins aren...
MORE STORIES >>
College Football News

Delivered to your inbox

You'll also receive Yardbarker's daily Top 10, featuring the best sports stories from around the web. Customize your newsletter to get articles on your favorite sports and teams. And the best part? It's free!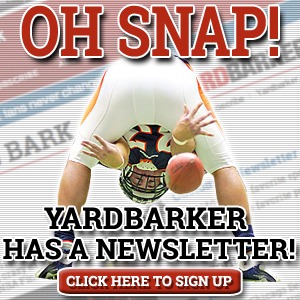 THE COLLEGE FOOTBALL HOT 10