CORAL GABLES, Fla. (AP) -- A person familiar with the negotiations says Randy Shannon and TCU have agreed on a contract for the former Miami coach to become the Horned Frogs' linebackers coach. Shannon and TCU are finalizing a contract, the person told The Associated Press Monday on condition of anonymity because the Horned Frogs have not announced the hiring. A call to a TCU...
Randy Shannon will not be fighting the Miami Hurricanes in a courtroom. The university said Tuesday that a breach-of-contract lawsuit the former Hurricanes football coach filed in late April over money he said he was denied after his firing has been settled. Financial terms of the settlement were not released, largely because Shannon's contract with the school required him to...
Randy Shannon, Miami alum and former Hurricane head coach, is suing the University of Miami for a breach of their contract. Shannon is saying that the university did not pay him all that he was guaranteed in his final contract. Shannon was fired in November of 2010 with a record of 28-22 in his four [...]
U MAD?
Former head football coach Randy Shannon is at odds with his former employer over how much money he is owed by the school after they terminated his employment in 2010.
Former Miami coach Randy Shannon is suing his alma mater, saying the university is not paying him all he is owed. Shannon was fired in November 2010. He was under contract through Jan. 31, 2014, a deal that said Shannon would receive a guaranteed amount per year if he was fired. Shannon's lawsuit says Miami reduced that guarantee because he was fired less than one year into...
It sure is looking like  Randy Shannon is coming to Knoxville. First reported last week: Randy Shannon To Be Announced as Defensive Coordinator, former Miami coach Randy Shannon is taking over the effeminate Tennessee defense. As the Canes coordinator Shannon's defenses never ranked worse than 7th for 6 straight years (there was one down year [...]
Former Miami head coach Randy Shannon emerges as lead candidate to become defensive coordinator at Arkansas.
Yesterday Bobby Petrino announced the release of defensive coordinator Willy Robinson after four years with the Razorbacks. Today Petrino announced that Randy Shannon will take over the defensive coordinator duties for the Hogs. Shannon is the former head coach for University of Miami – 2007-2010.   Shannon brings a strong defensive pedigree to the Razorback program. He was...
Nearly a year ago, everything changed for Miami coach Randy Shannon. He was fired by his alma mater, his hometown school, the place he had been for virtually every bit of his adult life.
In the year that has followed his firing by Miami, former Hurricanes coach Randy Shannon has gone back to school. A lot of schools, to be precise. Shannon has spent time with more than a half-dozen teams in recent months, seeing how they run various aspects of their programs. And in an interview with The Associated Press, Shannon says he's learned plenty for the future. He...
MORE STORIES >>
College Football News

Delivered to your inbox

You'll also receive Yardbarker's daily Top 10, featuring the best sports stories from around the web. Customize your newsletter to get articles on your favorite sports and teams. And the best part? It's free!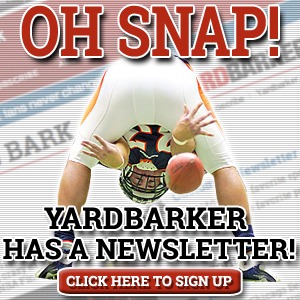 THE COLLEGE FOOTBALL HOT 10