The University of Louisville and adidas unveiled the new "Showtime" alternate TECHFIT football uniform that the Cardinals will wear versus Florida State on Oct. 30. From GoCards.com: "Louisville's new uniform incorporates TECHFIT Shockweb technology. The adidas TECHFIT Shockweb uniform is the only true compression uniform system in the industry. Shockweb fits tighter to...
Photo: Geoff Burke-USA TODAY Sports Freshman quarterback Reggie Bonnafon will not travel with the team to Miami this weekend as they take on Florida International. Bonnafon's father, Wallace, passed away unexpectedly earlier this week. Bobby Petrino shared the unfortunate news at Monday's press conference. "Reggie is a real family guy. He had a close relationship with Wallace...
MIAMI (AP) There's little chance that Louisville will overlook Florida International this week. And FIU can blame Virginia for that. When the Cavaliers knocked off Louisville 23-21 last weekend, whatever possibility there was of the Cardinals taking their trip to FIU lightly probably went up in smoke. Louisville embarrassed FIU last season, winning 72-0 in the second-largest...
LOUISVILLE, Ky. (AP) Louisville coach Bobby Petrino says freshman backup quarterback Reggie Bonnafon will miss Saturday's game at Florida International to be with family after the death of his father. Wallace Bonnafon died Monday of heart failure. His son did not practice on Tuesday, and Petrino said during a Wednesday conference call that the Louisville native will not travel...
LOUISVILLE, Ky. (AP) Louisville coach Bobby Petrino's concerns about his quarterbacks' struggles were tempered by news of a personal loss for freshman signal-caller Reggie Bonnafon. The Cardinals coach opened Monday's news conference by announcing that Bonnafon's father, Wallace, had died. The school said that Wallace Bonnafon died from heart failure but did not...
Photo: Pete Cautilli At Monday'afternoon's press conference, Bobby Petrino shared some very unfortunate news. "We had a tragedy in the Cardinal family today. Reggie Bonnafon's father Wallace passed away earlier," Petrino told the media. "Reggie is a real family guy. He had a close relationship with Wallace as our staff did. I ask that everyone's prayers and thoughts...
After a hiatus, the Weekend That Was is back! Its our one stop shop for everything that happened over this weekend. We'll get going here in a second, but first that certainly isn't Reggie Bonnafon on the ACC Network. Courtesy of @JD_Coffey via Twitter "We never got the name of Louisville's last quarterback what can we do here?" "Let's just throw some random black dude's...
Nick and Nick talk about Louisville's win over Murray State and whether or not there is a QB controversy after Reggie Bonnafon played really well in extended action. They are also joined by UK football color analyst Jeff Piecoro to break down Kentucky's win over Ohio State.
LOUISVILLE, Ky. (AP) Louisville backup quarterback Reggie Bonnafon ran for two touchdowns and passed for another and the No. 25 Cardinals scored on nine straight possessions in a 66-21 victory over Murray State on Saturday night. After an opening-game test by Miami on Monday night, Louisville (2-0) cruised past its downstate opponent. The Cardinals followed a first-possession punt...
Photo: The Cardinal Connect Regardless of what you hear from the coaching staff throughout fall camp, unless something significantly changes, Will Gardner will be the starting quarterback for the Louisville football team in 2014. Although Petrino wants to see Gardner go out and earn it in fall camp, I sincerely believe that he's confident in Gardner's ability to lead the offense...
MORE STORIES >>
College Football News

Delivered to your inbox

You'll also receive Yardbarker's daily Top 10, featuring the best sports stories from around the web. Customize your newsletter to get articles on your favorite sports and teams. And the best part? It's free!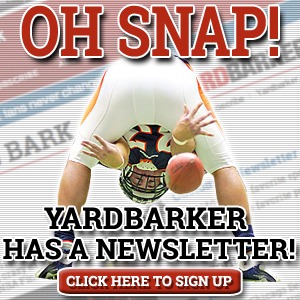 THE COLLEGE FOOTBALL HOT 10