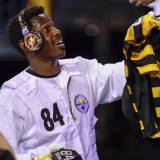 Jeff Risdon of RealGM shares his "10 cents" worth of thoughts after the week's NFL action.$.01—The NFL tried to make the marquee game on the schedule the Sunday night affair between NFC East foes Dallas and Philadelphia. And while that wound up being an entertaining—if poorly played—tilt, the most important game of the day took place in Minnesota between the Vikings and Rams.Both...
According to a report by Michael Lombardi of the National Football Post, one of the reasons why linebacker Rey Maualuga fell in last month's draft (he was selected by the Bengals with the 38th overall pick after most projected him to go in the first round) was because he was a "handful" at USC. Rey Maualuga, [...]
Round one took a cool 3 hours and 35 minutes. The Yard got video with every greenroom guy except Brian Orakpo, but who cares about the Redskins anyway. We'll get that video up as soon as we can. Unfortunately the Internet here is slower than Rey Maualuga's 40 time.Yardbarker's coverage of the 2009 NFL Draft. Continued.
SC started camp the other day. I talked to a couple of the guys --- Brian Cushing, Rey Maualuga, Taylor Mays, Allan Bradford --- to get their feedback on how things were going. That's a big part of me and I want to stay connected with my old friends in college. I'll follow them closely all year. I shoot at least 1 or 2 of them a text every day just to share some funny stories. I...
MORE STORIES >>
College Football News

Delivered to your inbox

You'll also receive Yardbarker's daily Top 10, featuring the best sports stories from around the web. Customize your newsletter to get articles on your favorite sports and teams. And the best part? It's free!
THE COLLEGE FOOTBALL HOT 10