Auburn football had a remarkable year and almost came away with the National Title. The magical season produced two plays which have been nominated as 2014 ESPY Best Play.  One of the entries is Chris Davis' field goal return against its rival Alabama and the other being the Hail Mary from QB Nick Marshall to Ricardo Louis for a 73 yard touchdown against Georgia, keeping its title...
Georgia defensive coordinator Todd Grantham has accepted a similar position on Bobby Petrino's staff at Louisville. Georgia coach Mark Richt confirmed Sunday night that Grantham had accepted an offer from the Cardinals. Grantham was Georgia's defensive coordinator for four years. Grantham, who was given the additional title of associate head coach in 2012, was earning ...
Ricardo Louis and Chris Davis changed their lives and Auburn's season with two unforgettable plays. Louis made the Immaculate Deflection against Georgia and Davis beat Alabama on a Kick Six. The plays helped launch the second-ranked Tigers into Monday night's BCS championship game against No. 1 Florida State at the Rose Bowl. Davis is a starting cornerback and the nation...
Auburn beat Georgia over the weekend in one of the most improbable finishes in sports this season.  Trailing 38-37 with half a minute left and facing a 4th & 18, Auburn QB Nick Marshall flinged the ball downfield where it was tipped by the Georgia defense into the waiting arms of Ricardo Louis. When you're the home broadcast team and you see a miraculous finish unfold...
Yesterday, the Auburn Tigers had one of the most amazing comebacks you'll ever see in college football. Facing a 4th-and-18 on his team's on 27-yard line, Nick Marshall dropped back and threw an absolute prayer down the middle to teammate Ricardo Louis. The ball was severely overthrown and went right to two Georgia defensive backs, but somehow neither managed to catch it, and...
Let's face it: A lot of this was fluky. Auburn quarterback Nick Marshall just chucked the ball in a general direction of his receiver, Ricardo Louis, who was never going to catch it. The ball was more than 50 yards in the air, and one Georgia defender tipped it up and out of the hands of the other one and the ball popped right over to Louis, who bobbled it a few times and .....
Ricardo Louis scored on a deflected 73-yard pass on fourth and 18 with 25 seconds left to lift No. 7 Auburn to a stunning 43-38 victory over No. 25 Georgia on Saturday night. The Tigers (10-1, 6-1 Southeastern Conference) had blown a 27-7 lead but pulled out one more huge play to continue the biggest turnaround in major college football. From 3-9 last year, they can win the SEC...
Via AP on Fox
This one will go down in Auburn history as one of the best plays ever.
There's nothing like football in the South Eastern Conference. Moments after Georgia's Aaron Murray scored a rushing touchdown that seemed to have iced the game, Auburn quarterback Nick Marshall heaved up a 73 yard hail mary pass to Ricardo Louis that was tipped by a Georgia player and led to an improbable 43-38 victory.  
Auburn's SEC Championship chances were all but over. After blowing a 37-17 fourth-quarter lead against the 25th-ranked Georgia Bulldogs and facing a fourth-and-18, Tigers quarterback Nick Marshall stepped up in the pocket and released what can only be called a prayer. Auburn receiver Ricardo Louis was the only Tigers player within 20 yards of the throw, while three Georgia defensive...
MORE STORIES >>
College Football News

Delivered to your inbox

You'll also receive Yardbarker's daily Top 10, featuring the best sports stories from around the web. Customize your newsletter to get articles on your favorite sports and teams. And the best part? It's free!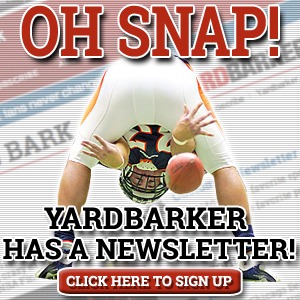 THE COLLEGE FOOTBALL HOT 10