Report: Atlanta Journal-Constitution, Arizona coach Rich Rodriguez is looking for talent in Georgia.  Arizona currently has one player from the Peach State and is looking to add more. Rodriguez shared, "We still come out here to the Atlanta area a little bit in recruiting.  Our coaching staff has a good bit of experience out here. If we can get guys to visit, that's the key...
TEACH ME HOW TO...
Many college football teams are in the process of finishing up their fall camps and getting ready for the season to start.  To do so, many teams are unwinding, which is why the Arizona Wildcats held their first ever dance competition.  The competition was pretty entertaining, but when head coach Rich Rodriguez jumped in at the end, it was all over.  You can clearly see that the...
The Gildon New Mexico Bowl kicked off the 2012-2013 bowl season and proved to be a great start. The Rich Rodriguez led Wildcats were down 48 – 35 with 1:48 left in the 4th quarter, but that didn't seem to be much of a problem. The Wildcats scored, recovered an onside kick, and scored again then kicked the PAT to put them ahead with under 20 seconds left. The bowl season could...
Rich Rodriguez and the Arizona Wildcats beat Lane Kiffin and the USC Trojans 39 – 36 today. The Wildcats were able to overcome a 28 – 13 lead that USC had just after halftime. They were also able to keep up with USC receiver Marquis Lee, who had a spectacular game and accounted for 55% of the Trojans total 618 yards. Zona was led by quarterback Matt Scott, who was 27 – 50 for...
Rich Rod's road back to college football glory is on track again at Arizona. Rodriguez left West Virginia in 2007 to succeed Michigan Wolverine's head coach Lloyd Carr. The exit didn't sit well with West Virginia and resulted in a lawsuit with the school that required Michigan to pay $2.5 million and Rodriguez to pay $1.5 million. Rodriguez didn't have much success replacing...
MORE STORIES >>
College Football News

Delivered to your inbox

You'll also receive Yardbarker's daily Top 10, featuring the best sports stories from around the web. Customize your newsletter to get articles on your favorite sports and teams. And the best part? It's free!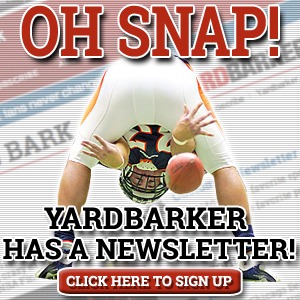 THE COLLEGE FOOTBALL HOT 10