The staff at cover32 felt obligated to get everything in print before the NFL season kicks off in about 36 hours. We've got one pick of a Super Bowl re-match, one that could be a track meet in Glendale and one that'd pin Richard Sherman against one of his first enemies in the NFL. All that — and so much more. Without further ado, to see the 2014 predictions, CLICK HERE. You...
Patrick Peterson vs. Richard Sherman isn't exactly Pac vs. Biggie, but I guess it is mildly entertaining. Peterson signed for more money and Sherman took some shots, Peterson for his part saying it is all in good fun. I don't how he feels about it, but I think it's fun, healthy competition. I'm having fun with it, sometimes it seems like he's a little salty with it. I don't...
  Richard Sherman has let the league, fans, and other players know on numerous occasions that he is the best cornerback in the league. Arizona Cardinals Patrick Peterson was no exception. After the news broke out regarding Peterson's new contract, (which was $14 million more than Sherman's) Sherman took to Twitter and retweeted the following stat: Patrick Peterson quickly fired...
Patrick Peterson and Richard Sherman have had a bit of a rivalry going over the past year and Twitter has done wonders to keep the beef alive. After Sherman signed a $57 million extension in May, Peterson said he believed he was worth more than that. Sherman responded to Peterson's line of thinking by posting some interesting stats on Twitter: Want what I got? Get the stats I...
The Stanford Cardinal created this new Nerd Nation video, which is tough to watch, but it has a brief cameo from Richard Sherman. Stanford may be here to stay as an elite school for athletics, but they are not ready for the music biz. [YouTube] The post Richard Sherman Has Cameo in Stanford "Nerd Nation" Video appeared first on Diehardsport.
He Keeps Being Right"The NFC Championship was the Super Bowl. The 49ers were the second-best team in the NFL." - America's best CB to Yahoo SportsNow, the lovely things about this? Just don't stop. First, that he's clearly right on the merits. The Niners were a play away from winning in Seattle, of all places; the Broncos got their heads handed to them in a...
The Super Bowl is next week and already players and fans are starting to dig deep into the matchups the game will have. One of the main players being talked about in the big game is Richard Sherman, who made waves with this post game interview after the NFC Championship game. Arizona Cardinals cornerback Patrick Peterson sent out a tweet on Saturday that some are wondering whether...
In the NFC Championship postgame interview that everyone is talking about, Richard Sherman started off his rant by proclaiming "I'm the best corner in the game." Many fans and experts would agree with that. Tyrann Mathieu is not one of them. Sorry Sherman I don't mean to intercept but my dawg @RealPeterson21 the #1 CB — Tyrann Mathieu (@Mathieu_Era) January 20, 2014 Apparently...
We thought we really knew why Richard Sherman was so mad at Michael Crabtree,  now I think we really know the reason. According to the Seattle Times,  Crabtree tried to start a fight with Sherman at a charity event in Arizona for Cardinals receiver Larry Fitzgerald. Sherman has been upset with Crabtree since last summer. Both attended Arizona star receiver Larry Fitzgerald's...
RENTON -- It's tempting to say that Richard Sherman never looked back after moving to cornerback before his junior season at Stanford.That wouldn't be accurate, though.Everyone saw him look back last week while running side-by-side with Cincinnati receiver A.J. Green, showing an ability that's been seen all-too-rarely from Seattle cornerbacks the past few seasons: Sherman...
MORE STORIES >>
College Football News

Delivered to your inbox

You'll also receive Yardbarker's daily Top 10, featuring the best sports stories from around the web. Customize your newsletter to get articles on your favorite sports and teams. And the best part? It's free!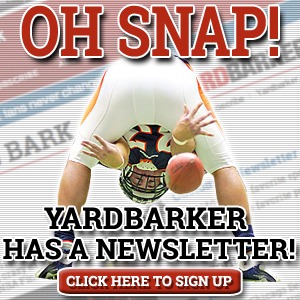 THE COLLEGE FOOTBALL HOT 10