Redshirt freshman quarterback Brett Hundley had an excellent collegiate debut in UCLA's 49-24 season-opening win over Rice on Thursday. Hundley went 21/28 for 202 yards, two touchdowns, and one interception. He also ran for a 72-yard touchdown on his first collegiate play, prompting the following tweet from former Bruins coach Rick Neuheisel: Touchdown for Brett Hundley on his...
THE TRACTOR STORY
Ex-UCLA head football coach Rick Neuheisel sold his home and his real estate agent is known for portraying one of Jerry's girlfriends.
UCLA's search for a head football coach has continued fruitlessly this week as the school has already been turned down by Boise State's Chris Petersen, Houston's Kevin Sumlin and Miami's Al Golden. While Jim Mora Jr. apparently emerged as the front-runner for the job a few days ago, sources inform us that the Bruins have since gone behind Mora's back to reach...
Rick Neuheisel coached his last UCLA practice on Wednesday night, and to honor the occasion his players gave him the the ol' coach appreciation treatment. This brought about plenty of "interesting" responses when it comes to this specific situation, although you have to admire just how well Neuheisel has handled this situation publicly since it [...]
NEU DAY
The UCLA football players planned and executed a fitting tribute to recently fired Coach Rick Neuheisel following his last practice. The players carried their coach off the field while chanting the UCLA fight song which was led by Neuheisel. Neuheisel's last game coaching the Bruins will be this Friday against Oregon in the Pac-12 championship. According to the LA Times: ...
UCLA players closed Coach Rick Neuheisels last practice by carrying him off the field, singing the UCLA fight song Wednesday. Neuheisel, fired on Monday, led the players in the UCLA chant. He will coach the Bruins against Oregon in the Pac-12 Conference championship game Friday. Asked if he could have received a better tribute, Neuheisel said, Its tough to imagine. Its meaningful...
When the raw emotion from UCLA coach Rick Neuheisel's firing began to settle in Westwood, the Bruins realized they've still got one or two games to play this season. With disappointment and determination, UCLA went back to work just a few hours after Neuheisel was canned by athletic director Dan Guerrero on Monday. Neuheisel joined the Bruins again on the practice field...
COACHING CAROUSEL
Rick Neuheisel has underwhelmed during his time at UCLA, and was informed on Monday that he'll no longer be their coach after this year's PAC-12 championship game.
Gather around, kids, and let me tell you a story about a college football coach you might now know as "Pistol Rick." He first hit the scene in 1995 as the youthful, hip alternative to your everyday meat-and-potatoes coach. While his predecessor at the University of Colorado, Bill McCartney, was off founding Promise Keepers, a fiercely conservative religious organization...
UCLA football coach Rick Neuheisel is set to be fired even if the team makes the Rose Bowl, the Los Angeles Times reported late Saturday, citing sources. Bruins athletic director Dan Guerrero will sit down with Neuheisel after their season is over -- which could be as soon as next Friday, when UCLA plays Oregon in the Pac-12 Championship Game as a heavy underdog. The only reason...
MORE STORIES >>
College Football News

Delivered to your inbox

You'll also receive Yardbarker's daily Top 10, featuring the best sports stories from around the web. Customize your newsletter to get articles on your favorite sports and teams. And the best part? It's free!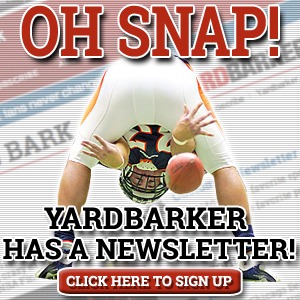 THE COLLEGE FOOTBALL HOT 10