Whether Gary Andersen's first season as head coach of Wisconsin football could be considered successful really depends on your definition of success. For one, Wisconsin, one of the nation's most consistently good programs over the past decade, failed to record a bowl win for the fourth straight season. The Badgers' 9-3 regular season record was arguably inflated. Wisconsin...
Wisconsin offensive linemen are always popular on NFL draft weekend, and this year was no different. Two days after the Dallas Cowboys selected interior lineman Travis Frederick with the 31st overall pick in the first round, the Baltimore Ravens took left tackle Ricky Wagner with the 168th overall pick in the fifth round. Wagner, a 6-foot-6, 308-pounder, became the third Badger...
The fifth and final member of Wisconsin's 2010 offensive lineman to hear his name called at the NFL Draft, tackle Ricky Wagner gets selected by the Baltimore Ravens at the end of the fifth round Saturday.
Ricky Wagner added 80 lbs and changed positions to become next in a long line of notable Wisconsin left tackles. He is atheltic and versatile, but how does that translate to the next level? We once more check in with Andrew Rosin for answers on what we can expect for the success from the man following Joe Thomas and Gabe Carimi out of University of Wisconsin to the NFL. What path...
Wisconsin offensive lineman Ricky Wagner is ready to follow in the footsteps of many former Wisconsin offensive lineman, the road to the NFL.
INDIANAPOLIS -- Last year it was Kevin Zeitler and Peter Konz who represented the Wisconsin Badgers offensive line in the NFL Draft. Two years ago, it was Gabe Carimi and John Moffitt. Carrying on the Badgers tradition of solid NFL offensive line prospects in 2013 is Travis Frederick and Ricky Wagner. "Wisconsin has prepared me quite a bit well for this jump," Frederick...
MOBILE, Ala. - Admittedly overwhelmed by the amount of NFL attention this week at the Senior Bowl, Wisconsin offensive lineman Ricky Wagner knows he must settle down and focus in order to impress as he adjusts to life as a potential NFL employee.
In today's age of college football, a big beastly offensive line is pretty much synonymous with the Wisconsin Badgers. With each year here and gone, the Badgers maintain one of the best units in the country, never showing any sign of slowing down. This season's big man on campus and leader of the offensive line is senior left guard Ricky Wagner (literally the big man on campus...
Wisconsin is known for its successful offensive lineman. Ricky Wagner hopes the be the next in a line of many, and he talks about what it will take for the Badgers to be successful this upcoming season.
#58 Ricky Wagner, OT Wisconsin HGT: 6061 WGT: 320 All-Pro left tackle Joe Thomas may be the most notable Wisconsin offensive lineman in recent years, but in the last two seasons the Badgers have produced three 1st round draft picks, Gabe Carimi, John Moffit and Kevin Zeitler and 2nd round pick Peter Konz, 2013 may prove to be no different. In 2011 Wagner earned…. READ MORE Related...
MORE STORIES >>
College Football News

Delivered to your inbox

You'll also receive Yardbarker's daily Top 10, featuring the best sports stories from around the web. Customize your newsletter to get articles on your favorite sports and teams. And the best part? It's free!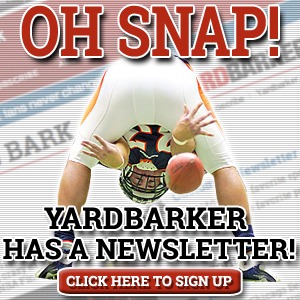 THE COLLEGE FOOTBALL HOT 10