CHICAGO -- Other players will earn more publicity this season on Wisconsin's offense: running backs, quarterbacks, wide receivers, tight ends and even fullbacks that touch the ball on occasion. Those position groups feature players whose achievements are quantifiable by statistical output, and so it's easy to note whether any produced stellar games. Less recognizable on a...
Wisconsin Badgers offensive lineman Rob Havenstein is having himself a banner preseason, being named to multiple watch lists and one of 10 "Players to Watch" in the Big Ten. He also appears to be enjoying these media days, so let's take a listen to Havenstein. Topics included: His weight Continuity of having a staff together Support system for Jaden Gault Goals and expectations...
It's watch list season across college football and at Wisconsin there is no bigger award than the Outland Trophy. That's the award for the best interior lineman in the country and the one that former Badgers Joe Thomas and Gabe Carimi have won in the past. This year, the Badgers have put right tackle Rob Havenstein on the preseason watch list for the Outland Trophy. Havenstein...
  Wisconsin Badgers beat writer Jesse Temple will be analyzing the 25 most important players to the Badgers' success in the 2014 season. Check back each weekday to see the latest player on the list. You can find every report here. Note: This is not a list of the team's 25 best players or a series about past success, but rather which of them means the most to how Wisconsin...
The Wisconsin Badgers have always had a reputation for having a top-notch offensive line and producing several fantastic pro prospects. Mike Webster was a key member of the 1970s Pittsburgh Steelers dynasty and is enshrined in the Pro Football Hall of Fame. Mark Tauscher spent 11 seasons blocking for Brett Favre and Aaron Rodgers in Green Bay. Joe Thomas has earned notoriety as one...
MADISON, Wis. -- The local gym in Rob Havenstein's hometown of Mount Airy, Md., featured a sliding weight scale that was wholly unequipped to accurately evaluate his true mass. The scale, Havenstein admits, reached about 350 pounds, which would be adequate for 99.9 percent of people on this planet. But Havenstein's size makes him appear not of this world. "Once you...
MADISON, Wis. -- Rob Havenstein can still feel the silence hanging in the air when life as a Wisconsin offensive lineman drastically changed yet again. It was almost exactly a year ago this week -- Sept. 9, 2012 -- when the team returned home following a dismal 10-7 loss against Oregon State. That Sunday, the entire football team shuffled into a team meeting, where former coach Bret...
We are under 80 days to Badger football and it's sate to say we here at MTB have our anxious energy cranking up a notch or two. It's also true that we are reaching into the heart of the Wisconsin program for most of the past 23 years - the offensive line. After profiling Mr. Versatile, a.k.a. Ryan Groy yesterday we flip over to the other side and perhaps the only reason...
MADISON, Wis. Rob Havenstein admits the post-practice training table meals inside Camp Randall Stadium have become a source of competition for Wisconsin's offensive linemen. "Whatever we put on our plates, we usually go ahead and say it's a goal that we have to finish it," said Havenstein, Wisconsin's 6-foot-8, 340-pound right tackle. "If you put too much...
It's been awhile for this writer, so bare with me as I step in for Nate today! But I'm opening things up with a simple question... Are you down with Danny O'B? Well, Wale is! (warning NSFW) While the song isn't all that new, Rob Havenstein brought it to our attention yesterday while making a little fun of D.O'B himself: My boy Danny O'Brien's thug...
MORE STORIES >>
College Football News

Delivered to your inbox

You'll also receive Yardbarker's daily Top 10, featuring the best sports stories from around the web. Customize your newsletter to get articles on your favorite sports and teams. And the best part? It's free!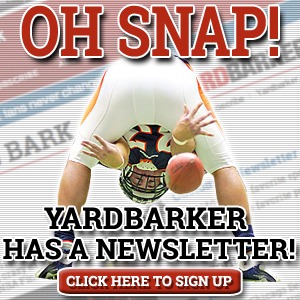 THE COLLEGE FOOTBALL HOT 10