Washington Redskins quarterback Robert Griffin III jumped on to the national scene for a previously downtrodden Baylor Bears football program back in 2011. The following year, he earned the Heisman Trophy and was the No. 2 overall selection in the NFL draft.  For RGIII, it seems that his success created as many skeptics as supporters. And he's perfectly fine with that. They doubted...
Baylor plans on installing a statue of Redskins quarterback Robert Griffin III who rose to stardom in Waco, Texas back in 2011,  according to FOX Sports Southwest. Midland, Texas native Tom White of Tom White Studios in Prescott Valley, Ariz., completed the 9.5-foot bronze sculpture of Baylor's only Heisman Trophy winner and it will be installed in the south end zone plaza of...
The Baylor Bears finally mattered in college football a couple of seasons ago when Robert Griffin III dominated games and won the Heisman Trophy. They had stepped back slightly last season, but still managed to win eight games with an extremely strong finish which included wins over 4 ranked teams, including an upset of then #1 Kansas State and their bowl game in dominating fashion...
GAME CHANGER
The cover of NCAA Football 13 will feature former Baylor QB Robert Griffin III alongside a legendary Heisman winner from the past.
IT'S ALL ABOUT VISCOSITY
The first big endorsement opportunity for the quarterback is reportedly a deal with Castrol Motor Oil.
THREW DOWN THE GAUNTLET
The Heisman Trophy-winning QB issued a challenge to fellow Baylor star and recently crowned national champion, Britney Griner, to a slam dunk contest.
CERTAINLY NOT THE LAST
Robert Griffin III put Baylor University football on the map. He brought home the Heisman Trophy in late December and is on the fast track to becoming an NFL franchise quarterback. And with his new contract with Adidas, he's going to look good doing it. RGIII signed recently signed a deal with Adidas and already has his first commercial under his belt. It...
PRO TOOLS
After weeks of speculation, the 2011 Heisman Trophy winner looks to be ready to take his game to the next level and enter April's NFL Draft.
MAKING THE LEAP
Although Robert Griffin III recently said he does not know if he will declare for the NFL Draft, his father said the quarterback will go pro next season.
STAND BY YOUR MAN
Behind every great man there's a great woman, someone quotable I'm sure has said. Just ask Kobe about that — there's a reason the Lakers are 1-2. Maybe Rebecca Liddicoat is the real fuel behind Robert Griffin III's Heisman season. Liddicoat is Griffin's girlfriend and fiancee. Robert actually proposed to her while singing a song, and he had a friend play the music...
MORE STORIES >>
College Football News

Delivered to your inbox

You'll also receive Yardbarker's daily Top 10, featuring the best sports stories from around the web. Customize your newsletter to get articles on your favorite sports and teams. And the best part? It's free!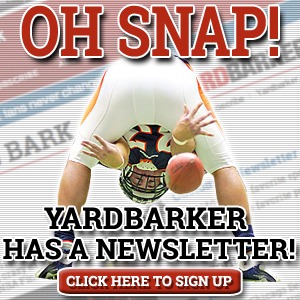 THE COLLEGE FOOTBALL HOT 10