COLUMBUS, Ohio (AP) Many Ohio State fans were worried when Carlos Hyde took his 1,500 yards with him on graduation day. They figured with Hyde gone, the Buckeyes would have a hard time finding someone that productive. But Urban Meyer isn't sweating it. After a 34-17 victory over Navy in the opener, he's pleased with the job done by his three-head tailback, starting with...
Ohio State couldn't find enough carries for its running backs on Saturday -- and another upperclassman is being added to the mix this weekend against San Diego State. BuckeyeSports.com tries to sort everything out with the return of Rod Smith and more on tap.
After being suspended for the opening game, Ohio State cornerback Bradley Roby and backup running back Rod Smith return to the lineup this week. Whether they start and play a lot or are eased back into the depth chart will be determined in the days leading up to the Buckeyes' game Saturday against San Diego State. Coaches and teammates say both Roby and Smith were active and...
While Armani Reeves spoke to a semicircle of reporters after a recent Ohio State practice, the person he was discussing was about 50 feet behind him seated in an ice bath cooling off after another hot day of work. The distance was more than a little symbolic. Bradley Roby, the Buckeyes' standout cornerback, isn't doing any talking these days, at least not publicly. He also...
COLUMBUS, Ohio - The suspensions of Rod Smith and Bradley Roby weren't the only items Ohio State coach Urban Meyer discussed Saturday afternoon after what he called an important intra-squad scrimmage. Meyer said the scrimmage was "good" and admitted "if it wasn't, I probably wouldn't tell you guys." Two weeks from the season opener vs. Buffalo, Meyer...
Speaking after an intra-squad scrimmage on Saturday, head coach Urban Meyer announced that cornerback Bradley Roby will be suspended for the Buckeyes opener vs. Buffalo for his role in an early morning incident in Bloomington, Ind., in July, and that junior running back Rod Smith will also serve a one-game suspension for a violation of team rules last winter.
Few positions have been talked about more in the recent weeks at Ohio State than the running back position.  Given the turmoil created by the Carlos Hyde situation, this is to be expected.  The biggest question during the time in which no one was sure of the future of Hyde at Ohio State was that of who would fill the role of the #1 running back in Urban Meyer's offense.  Many...
  In his very first year The Urban Meyer took our Buckeyes to the land of the unbeaten, but thanks to Gene Smith going full retard we have no BCS National Championship to win. When Urban was hired expectations in Columbus went through the roof and after this past season the expectations are higher than a stripper at Kahoots.  In October we gave the Buckeye football team some pretty...
If you're one of those who were confused, and maybe even a little upset, that Ohio State dropped four spots in the polls after their win last week, you only need to look to their opening series this week to understand why. UAB had the ball first, and on their very first set of downs, Ohio State had them at 3rd & 1. The defense that was called was the right one, as it allowed...
On Columbus radio today, Ohio State head coach Urban Meyer said that freshman RB Bri'onte Dunn has been passed on the depth chart by Rod Smith. Nether RB received a carry in Ohio State's game against Cal last Saturday, despite the loss of Carlos Hyde and Jordan Hall's return from injury. Going into last week, Meyer said the starting job was up for grabs in the absence of Hyde...
MORE STORIES >>
College Football News

Delivered to your inbox

You'll also receive Yardbarker's daily Top 10, featuring the best sports stories from around the web. Customize your newsletter to get articles on your favorite sports and teams. And the best part? It's free!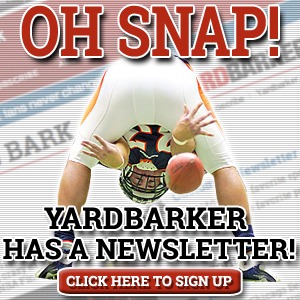 THE COLLEGE FOOTBALL HOT 10