Stop me if you've heard this before — Michigan State just won a game with its amazing defense. The Spartans battled back and forth with the Stanford Cardinal tonight in Pasadena in the 100th Rose Bowl Game, but it came down to just what we expected: a battle in the trenches. In the game's final minutes, Stanford trailed 24-20 and faced a 4th-and-one on its own 34-yard line...
As soon as this season's bowl schedule was released several weeks ago, we knew which game to circle on our calendars for hard hits — Michigan State-Stanford in the Rose Bowl. We haven't been disappointed — the game has featured extremely physical plays and some bone-crushing tackles. There was also, a massive, massive block by Stanford fullback Ryan Hewitt. Late in the fourth...
Oh, Pac-12 refs, you've gone and done it again.  With Stanford facing 3rd-and-1 from its own 38-yard-line, Cardinal fullback Ryan Hewitt was stuffed by the USC defense for what appeared to be no gain. Heck, when they brought the chains out, the ball actually appeared short of the marker. But somehow, Stanford was given a first down. Check it out: Somewhere, Wisconsin coach Gary...
2009's recruiting class saw Stanford sign four tight ends, an unusually high number that has paid dividends throughout the careers of Zach Ertz, Levine Toilolo, and Ryan Hewitt. Now, with the cupboard almost bare, David Shaw looks to reload with Greg Taboada, Eric Cotton, Austin Hooper, and Durham Smythe.
Big names populate Part II of The Bootleg's Rose Bowl Locker Room report. Ryan Hewitt, Zach Ertz, Joshua Garnett, and Kevin Hogan all check in with David Lombardi in the victorious Stanford locker room.
Stanford football basked in the glory of a perfectly sun-splashed Southern California afternoon at The Home Depot Center, enjoying better team health than it did in the days leading up to the 2012 season opener against San Jose State. Ryan Hewitt, who had injured his ankle in the team's open preseason scrimmage, was banged up back then.
Oregon State, Oregon, and UCLA close out Stanford's 2012 regular season. Roses are still within smelling distance. Veterans Chase Thomas and Ryan Hewitt joined The Bootleg Radio to talk ball this week.
As fresh faces abound the starting offensive corps, tight end/fullback Ryan Hewitt will bring some steadiness to the unit. Hewitt is one of Stanford's more versatile players. Though he's not a two-way player in the mold of Owen Marecic, Hewitt transitioned with ease between fullback and tight end last season, and figures to do the same this year, especially with the departure of Coby Fleener.
Stanford quarterback Andrew Luck (C) celebrates a touchdown with teammates Stephan Taylor (33) and Ryan Hewitt (R) against Oregon State during the second half of their NCAA football game in Corvallis, Oregon, November 5, 2011. REUTERS/Steve Dipaola (UNITED STATES – Tags: SPORT FOOTBALL) By this time in most college football seasons, we know who is winning the Heisman Trophy...
MORE STORIES >>
College Football News

Delivered to your inbox

You'll also receive Yardbarker's daily Top 10, featuring the best sports stories from around the web. Customize your newsletter to get articles on your favorite sports and teams. And the best part? It's free!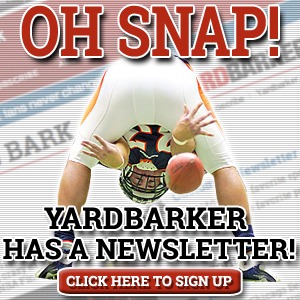 THE COLLEGE FOOTBALL HOT 10